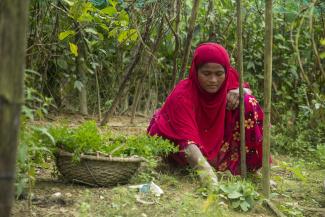 Myanmar Situation
2022 Population planning figures
IDPs: 448,000
Refugees and asylum-seekers: 1.2 million, 26% women and 47% children
Stateless persons*: 600,000
* Stateless persons figure includes IDPs.
2022 Situation overview
Violence against civilians and the intensified armed conflict following the events of February 2021 caused several thousand refugees to flee into neighbouring countries and displaced over 200,000 people within Myanmar, adding to 370,000 existing IDPs in urgent need of humanitarian assistance. At the same time, little progress has been made toward comprehensive and regional approaches to solutions for 1.1 million refugees from Myanmar, the vast majority of them Rohingyas from Rakhine state. In Myanmar, UNHCR's focus in 2022 will remain on responding to the needs of the IDPs and an estimated 600,000 stateless Rohingya, as well as supporting the creation of conditions conducive to return, including by promoting the restoration of the rights of Rohingya and implementing the recommendations of the Advisory Commission on Rakhine State. UNHCR will advocate for the rights of, and local solutions for, refugees in protracted situations in Thailand, seeking resettlement and complementary pathways, especially for the most vulnerable.
UNHCR will work with the Government of Bangladesh and partners to meet the needs of almost 900,000 refugees in Bangladesh, including through the Joint Response Plan for the Rohingya Humanitarian Crisis. Renewed efforts will be made to introduce the Myanmar curriculum for an initial 10,000 refugee students in grades 6-9. Meanwhile, some 103,000 Rohingya in Malaysia and 20,000 in India remain without legal stay and face increasing socioeconomic challenges and fear of arrest and deportation. UNHCR will collaborate with partners to advocate for alternatives to detention and enhanced self-reliance and empowerment through community-based initiatives. 
2022 Budget
Source: 2022 budget as approved by the Executive Committee of the High Commissioner's Programme at its 72nd session in October 2021.