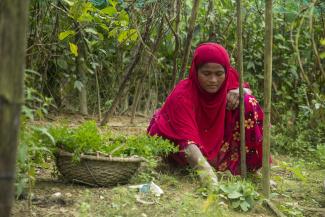 Global Report 2021
2021 Year-end population figures
Refugees and asylum seekers: 1.2 million, 25% women and 47% children

IDPs: 671,000, 27% women and 49% children

New IDPs in 2021 alone: 430,000

 

IDP returns: 130,000

Stateless persons in Myanmar (Rohingya): 600,000

 
2021 Situation overview
The situation in Myanmar was characterized by growing violence and insecurity and resulted in significant forced displacement within the country and into neighbouring countries (over 30,000 refugees between 1 February 2021 and 17 January 2022). Some 430,000 people were internally displaced in Myanmar after the military takeover on 1 February, more than doubling the 2020 IDP figure of 370,000. However, some 130,000 IDPs also returned to their places of origin in 2021, leaving a total of 671,000 IDPs at the end of 2021. As a result, humanitarian needs grew exponentially and were further compounded by new waves of COVID-19 and the resultant economic impact. Humanitarian access in many parts of Myanmar was restricted by insecurity, roadblocks and challenges in obtaining access approvals. In this challenging operating environment, UNHCR engaged host communities and local responders as well as partners who played a leading role in assisting displaced populations.
UNHCR reached 44,000 households (including IDPs and stateless persons) with core relief items, distributed $2.6 million in cash assistance to 17,000 people of concern, and delivered emergency shelters to 47,000 people of concern. Meanwhile, legal assistance was vital in addressing housing, land and property concerns. 
In Rakhine state, UNHCR worked to create conditions conducive to the voluntary repatriation of refugees and IDPs, and undertook 95 quick impact projects with UNDP, benefiting more than 20,000 people. UNHCR continued to advocate for the implementation of the 2017 recommendations of the Advisory Commission on Rakhine State. 
Outside Myanmar, UNHCR led efforts to protect and assist Rohingya refugees in the region, including those undertaking dangerous journeys at sea, and engaged with the Association of Southeast Asian Nations (ASEAN) and other regional actors in pursuit of solutions for Rohingya and other refugees from Myanmar, while also advocating for access to territory and protection. In Bangladesh, COVID-19 measures constrained humanitarian services in the refugee camps and UNHCR adapted its response to ensure continuity of protection and assistance. An inclusive national COVID-19 response resulted in nearly 80% of those eligible among the 890,000 Rohingya refugees receiving a vaccination. UNHCR also piloted a cash assistance programme in Cox's Bazar town for vulnerable members of the host community who were hit hardest by the pandemic. Inside the camps, UNHCR and partners addressed critical protection issues and responded to fires and the effects of natural disasters. Schooling came to a halt during the height of the pandemic. However, once the situation improved, UNHCR and partners were able to launch a project to introduce the Myanmar curriculum, training teachers in the skills required. UNHCR also expanded work with refugees and partners to reduce environmental degradation and ensure a more environmentally sustainable response. 
In 2021, 19,000 Rohingya refugees were relocated to Bhasan Char, an island where the Government of Bangladesh has made substantial investments to provide a temporary alternative measure for hosting refugees to alleviate overcrowded camp conditions. UNHCR, on behalf of the United Nations, signed a memorandum of understanding that provides a protection and policy framework for the island. UNHCR has also worked with the Government to ensure the voluntariness of relocations and freedom of movement.
Myanmar Situation
2022 Population planning figures
IDPs: 448,000
Refugees and asylum-seekers: 1.2 million, 26% women and 47% children
Stateless persons*: 600,000
* Stateless persons figure includes IDPs.
2022 Situation overview
Violence against civilians and the intensified armed conflict following the events of February 2021 caused several thousand refugees to flee into neighbouring countries and displaced over 200,000 people within Myanmar, adding to 370,000 existing IDPs in urgent need of humanitarian assistance. At the same time, little progress has been made toward comprehensive and regional approaches to solutions for 1.1 million refugees from Myanmar, the vast majority of them Rohingyas from Rakhine state. In Myanmar, UNHCR's focus in 2022 will remain on responding to the needs of the IDPs and an estimated 600,000 stateless Rohingya, as well as supporting the creation of conditions conducive to return, including by promoting the restoration of the rights of Rohingya and implementing the recommendations of the Advisory Commission on Rakhine State. UNHCR will advocate for the rights of, and local solutions for, refugees in protracted situations in Thailand, seeking resettlement and complementary pathways, especially for the most vulnerable.
UNHCR will work with the Government of Bangladesh and partners to meet the needs of almost 900,000 refugees in Bangladesh, including through the Joint Response Plan for the Rohingya Humanitarian Crisis. Renewed efforts will be made to introduce the Myanmar curriculum for an initial 10,000 refugee students in grades 6-9. Meanwhile, some 103,000 Rohingya in Malaysia and 20,000 in India remain without legal stay and face increasing socioeconomic challenges and fear of arrest and deportation. UNHCR will collaborate with partners to advocate for alternatives to detention and enhanced self-reliance and empowerment through community-based initiatives. 
2022 Budget
Source: 2022 budget as approved by the Executive Committee of the High Commissioner's Programme at its 72nd session in October 2021.