View All
2024 population planning figures
Refugees, people in refugee-like situations and asylum-seekers : 1.35 million

IDPs : 2.3 million, 50% women and girls; 49% children* 

Refugee and IDP returnees : 771,400

Stateless persons in Myanmar (Rohingya)** : 657,500 
*Demographics based on 2022 annual statistical report. 
**"Stateless persons in Myanmar (Rohingya)" figure includes displaced stateless persons who are also reported in the "IDPs" category.  
View All
2024 situation overview
Conflict triggered by the military takeover in Myanmar in February 2021 has resulted in recurring, protracted and new displacement, and complicated the search for solutions. Thousands more refugees have fled into neighbouring countries and over 1.95 million people are displaced within Myanmar. Humanitarian access is not predictable and access to potential areas of return has not been granted in 2023. 
In 2024, UNHCR's focus inside Myanmar will be on delivering timely humanitarian assistance, strengthening community-based protection and resilience, and supporting and expanding pathways to durable solutions for IDPs and stateless persons. In response to the multi-faceted nature of the crisis, UNHCR will seek meaningful, predictable, and regular access to displaced communities, for both UNHCR and humanitarian partners.  
UNHCR will maintain its leadership role coordinating and delivering protection-sensitive support in protection, shelter, and camp coordination and camp management across Myanmar. In 2024, UNHCR plans to support 100,000 families with core relief items to meet their basic needs and contribute to their good health, dignity, safety and well-being. It will engage closely with the UN country team to support the implementation of the Secretary-General's Action Agenda on Internal Displacement.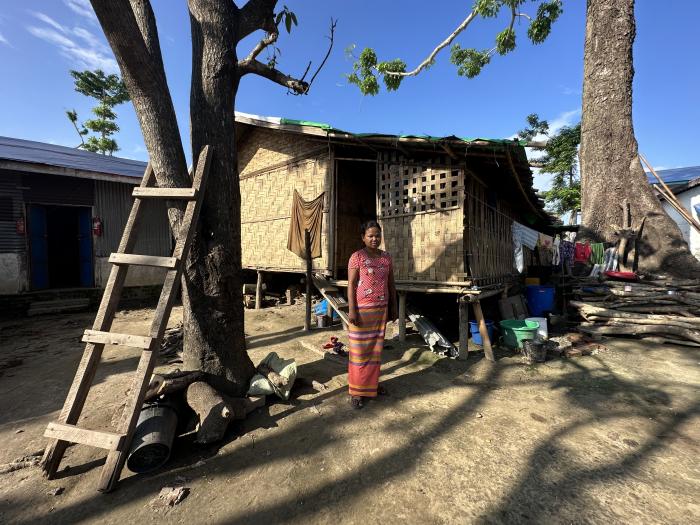 Facing a protracted crisis, the international community must renew its commitment to the Rohingya situation. Building on the outcomes of the 2023 Global Refugee Forum, UNHCR will work with the Government of Bangladesh and the humanitarian community to sustain and provide life-saving protection and assistance to over 960,000 Rohingya refugees in Bangladesh, while also coordinating the response in several other countries hosting Rohingya refugees. 
Against a backdrop of declining funding, UNHCR will reinvigorate engagement with development partners and the private sector in Cox's Bazar and Bhasan Char to expand skills development, education, and livelihood opportunities to enable refugees to rebuild their lives when they can voluntarily and safely return to Myanmar. In 2024, UNHCR will work via the national system to support the pre-primary, primary and secondary education of over 20,000 students in Bangladesh. 
In addition, UNHCR will continue to advocate for people to have access to territory, including those who attempt to undertake perilous onward journeys from Bangladesh and Myanmar in search of protection, security, family reunification, and livelihoods in other countries. In line with the 2017 recommendations of the Advisory Commission on Rakhine State, UNHCR will support stateless people, whether displaced or not, in securing civil and citizenship documentation, including birth registration.  
View All
Rohingya refugees require sustained, predictable and adequate financial support to live safely and decently, and to prepare for a sustainable return. Until they are able to return home voluntarily, in safety and dignity, UNHCR will support education, development of transferable skills, and livelihoods. It will advocate for access to places of return and will support the creation of conditions conducive to return. This includes projects that support access to basic services, access to livelihoods, and social cohesion. Until returns are possible, the international community must also step up and ease the pressure on Bangladesh and other host countries, by offering sustained support for the Rohingya response, expanding third-country solutions and supporting refugees' resilience. UNHCR will seek resettlement opportunities for 31,400 Rohingya refugees in 2024.