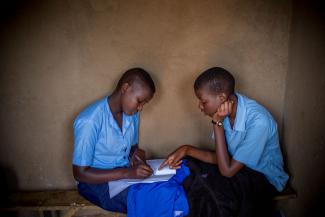 Western and Central Mediterranean Situation
2022 Population planning figures
| | | | |
| --- | --- | --- | --- |
| January - October 2021 | Central Mediterranean | Western Mediterranean | Canary Route |
| Departures* | 87,009 | 22,379 | 17,811 |
| Disembarkations** | 41,487 | 5,276 |   |
| Sea arrivals*** | 44,297 | 16,793 | 16,913 |
| Dead and missing**** | 1,225 | 310 | 898 |
Central Mediterranean - Algeria, Egypt, Libya, Tunisia, Italy and Malta.
Western Mediterranean - Algeria, Morocco and Spain (not including Canary Islands).
Canary Route - Canary Islands (excluding the rest of Spain).
*Departures represent the total of sea arrivals in Europe (Italy, Malta and Spain). 
**Disembarkations in North African countries (Algeria, Libya and Tunisia).
***Sea arrivals based on data from country of arrival.
****Dead an missing data from IOM - Missing Migrants Project.
2022 Situation overview
Forced displacement and onward movements within and across sub-Saharan regions and towards North Africa, Italy, Malta, and Spain increased steeply in 2021. This was due to insecurity in the Sahel, the Lake Chad Basin, Ethiopia's Tigray region, Sudan's Darfur region, and parts of South Sudan, combined with the pandemic's impact on livelihoods, and smuggling routes emerging to evade reinforced border controls. Climatic hazards, poor living conditions in countries of first asylum, and limited inclusion in countries along the routes exacerbated these trends, which will persist in 2022.
2021 saw a surge in people making dangerous journeys across the Central Mediterranean from Libya, Tunisia and to a lesser extent Algeria and Egypt — an 80% increase in the first ten months of the year over the same period of 2020. By the end of October, over 44,000 people had arrived in Italy and Malta and 27,500 had been disembarked in Libya, not a place of safety, as well as some 14,000 in Tunisia. Sea departures in the Western Mediterranean, and through the routes to Spain's Canary Islands, also increased, with 33,700 arrivals by the end of October. Thousands more were rescued or intercepted and disembarked in Algeria, Mauritania, Morocco and Senegal. Overall, UNHCR estimates that some 22.5%* of people arriving in Spain, Italy and Malta through these routes are of concern to UNHCR. The relatively low figure is due to the higher number of nationals from north African countries — such as Tunisia — reaching Italy.
Between January and October 2021, at least 898 people died or went missing en route to the Canary Islands, compared to 849 in all of 2020. 1,535 died or went missing in the central and western Mediterranean, compared to 1,319 in all of 2020. UNHCR expects these trends of increased departures, arrivals and disembarkations will continue in 2022. Even greater numbers are estimated to have died on land routes — in the desert and remote border areas, and at the hands of human traffickers. Some 1,750 people may have died along these land routes in 2018-2019, averaging 72 per month. At least 85 deaths occurred along land routes in 2020, including 30 people killed by traffickers in Mizdah, Libya.
In 2022, UNHCR will strengthen engagement with States, inter-agency partners, and humanitarian and development stakeholders to save lives and mitigate the risks of dangerous journeys. Through its leadership role in Mixed Movement Task Forces and Protection Working Groups in the West, East and Horn of Africa, as well as North Africa, UNHCR will work with partners to bolster identification and protection responses and services, including for victims of trafficking. UNHCR will advocate for increased rescue-at-sea capacity involving States, commercial shipowners, and private/NGO boats, and for a regional arrangement for disembarking and processing rescued people in places of safety.
The Office of the Special Envoy for the Central and Western Mediterranean will collaborate with IOM and other partners on information, reporting and advocacy tools, part of UNHCR's overarching objective to forge greater momentum on adapted protection and solutions for refugees and migrants within the framework of the Valletta Plan of Action – the Khartoum and Rabat Processes – and the EU-AU continent-to-continent partnership.  
UNHCR will continue supporting national asylum authorities in West and Central Africa to assist forcibly displaced people travelling in mixed movements and to prevent human trafficking. As part of this effort, UNHCR will add Cameroon and the Central African Republic to the Project 21 inter-agency protection monitoring and analysis system, alongside Burkina Faso, Chad, Mali, Niger and Nigeria. It will continue rolling out the "Live Learn and Participate" project to bolster protection of children and youth against the risks associated with irregular movements in dangerous journeys. UNHCR will also support the Economic Community of West African States (ECOWAS) in the initiative to adopt a model asylum law and the ECOWAS refugee protection and solutions framework across the region. These efforts will seek to leverage the impetus of the Roadmap for Solutions for Ivorian refugees, which requires robust financial support from the international community, particularly in Côte d'Ivoire and neighboring asylum states.  
In the East and Horn of Africa and the Great Lakes, UNHCR will operationalize the outcomes from the 2021 East African Community Regional Protection Dialogue to create sustainable protection and solutions. Building on the IGAD Support Platform on the Solutions Initiative for the displacement situation in South Sudan and Sudan, UNHCR will improve protection and solutions standards throughout the region, including by giving refugees legal pathways towards work and livelihoods in Sudan. UNHCR will offer every support to the Government and people of Ethiopia and work with the international community to find urgent and permanent solutions to forced displacement in Tigray, and in hosting and fostering the inclusion and participation in society of one of the world's largest refugee populations.
In North Africa, UNHCR will continue its engagement with the League of Arab States to carry forward the "Final recommendations on international protection in mixed movements in the Central Mediterranean". UNHCR will work with IOM and other UN and NGO partners to increase data collection and analysis, as well as information-sharing on mixed movements, in a whole-of-society approach to protection and solutions for refugees and migrants. This includes engaging with development partners to inform evidence-based policymaking and underpin the development of medium- to long-term livelihoods strategies and solutions. UNHCR will undertake outreach, communication with communities, and public awareness campaigns on the risks associated with irregular movements in dangerous journeys. UNHCR will advocate for inclusive and shock-responsive social protection systems, building on the positive examples of several North African states that have included people of concern in national systems and development plans during the pandemic.
UNHCR will promote the enhanced use of the Emergency Transit Mechanisms (ETMs) in Rwanda and Niger for asylum-seekers and refugees evacuated from Libya, as well as use of humanitarian corridors to Italy and elsewhere. This will be achieved by advocating for more resettlement places and complementary pathways, accelerating all aspects of processing, notably remote processing by resettlement states, and expanding the ETMs' geographical coverage to countries along the routes.
UNHCR will work to increase access to resettlement and complementary legal pathways, including family reunification, and prioritize the protection of children and youth against the risks associated with irregular movement in dangerous journeys. It will work on the ground with States and partners to strengthen alternative care and support structures for children and youth, increasing their access to education, professional training and livelihood opportunities.
UNHCR will invest in high visibility communication with communities, notably "Telling the real story", to advise people of specific risks on routes and in specific areas and guide them to the nearest protection and assistance services.
More broadly, UNHCR will continue to offer its good offices and advice to States and IOM to facilitate safe, dignified and legal return programmes for those not in need of international protection or without other grounds for legal stay in receiving countries.
*Estimate based on first instance refugee status decisions as per the Geneva Convention 1951 and Subsidiary Protection Status as published by Eurostat for the period January-June 2021. It does not include appeals. Nationality data for arrivals to Spain and the Canary Islands is unavailable. A decreasing trend in this percentage is due to arrivals of Tunisians and to a lesser extent Egyptians and Moroccans, and Bangladeshis in Italy.