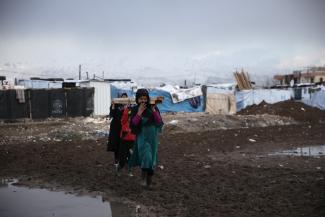 Syria Situation Response
2022 Population planning figures
Refugees and asylum-seekers in neighbouring countries (including Turkey): 5.6 million

IDPs: 6.7 million

Women: 48%

Children: 47%

Women and Children: 72.1 %
2022 Situation overview
The Syria crisis, currently in its 11th year, remains the largest displacement crisis in the world. COVID-19 brought significant economic and social distress which will continue to impact Syrian refugees, IDPs and their host communities. While host governments and the international community stepped up their support for Syrian refugees in response, vulnerabilities will likely continue to worsen in 2022 due to the challenging socioeconomic situation.
UNHCR will continue to co-lead with UNDP the Regional Refugee and Resilience Plan (3RP) in response to the Syria crisis, coordinating the work of more than 270 partners in support of national efforts in Egypt, Iraq, Jordan, Lebanon and Turkey. The 3RP will continue to connect the response with longer-term national strategies for inclusive growth and sustainable development.
Refugee returns to Syria are expected to continue at similar levels, after approximately 25,000 opted for voluntary repatriation in the first eight months of 2021. UNHCR's latest return intention survey, conducted in March 2021, indicated that while most Syrians wish to return one day (70%), only a small number planned to do so within the following 12 months (2.4%).
Over 610,000 Syrians have been identified with resettlement needs, the population with the highest resettlement needs globally. As the situation develops in Syria over the coming years, resettlement will remain a critical demonstration of responsibility-sharing by the international community.
Inside Syria, significant humanitarian needs will persist. UNHCR will focus on multisectoral assistance, including core relief items and shelter support, and will strengthen its community-based protection approach. UNHCR will continue to co-lead the Protection, Shelter, and Camp Coordination and Camp Management (CCCM) cluster responses.
2022 Budget
Source: 2022 budget as approved by the Executive Committee of the High Commissioner's Programme at its 72nd session in October 2021.