View All
Refugees from Ukraine recorded across Europe
In response to the massive humanitarian crisis caused by the ongoing war in Ukraine, UNHCR is working with national authorities, UN agencies, displaced communities, and local and international partners to provide urgently needed assistance. 
View All
2024 population planning figures
Refugees and asylum-seekers from Ukraine across the region : 5.8 million  
Among refugees : 47% women and 33% children 

IDPs : 3.7 million

Refugee and IDP returnees : 3.7 million

Others of concern : 14.6 million people in Ukraine in need of multisectoral humanitarian assistance
In Ukraine, the need for humanitarian assistance will remain enormous in 2024, with some 14.6 million people requiring multisectoral humanitarian assistance in the region.
View All
2024 situation overview
Millions of people will remain internally displaced in Ukraine in 2024, with 5.8 million refugees forecasted across the region. With no short-term prospects for peace, the war in Ukraine is expected to become increasingly protracted and localized, particularly in the eastern part of the country, where shelling and targeted attacks on infrastructure have become part of daily life. With the European Union (EU)'s extension of the Temporary Protection Directive (TPD) until March 2025, countries within the EU and beyond, will continue hosting refugees from Ukraine and providing protection and access to vital national services, including education, health, employment and social protection services. In countries neighboring Ukraine, widespread solidarity with refugees from Ukraine is expected to continue as governments, municipalities and civil society strive to include refugees – the majority of whom are women and children. At the same time, host governments are likely to confront growing socioeconomic challenges and costs associated with including refugees in national systems and services.  
More than 76% of refugees from Ukraine hope to return home one day. According to UNHCR's 4th Regional Intentions Report, security concerns remain paramount for refugees and IDPs from Ukraine when deciding whether to return to their places of origin. Other important factors include access to basic services, housing and livelihoods. Due to the volatile security situation, modest levels of spontaneous returns are anticipated in some areas of Ukraine, while an estimated 400,000 returnees will reside in locations where more than 40 per cent of residences are damaged or destroyed. Pendular movements between Ukraine and host countries are expected to continue.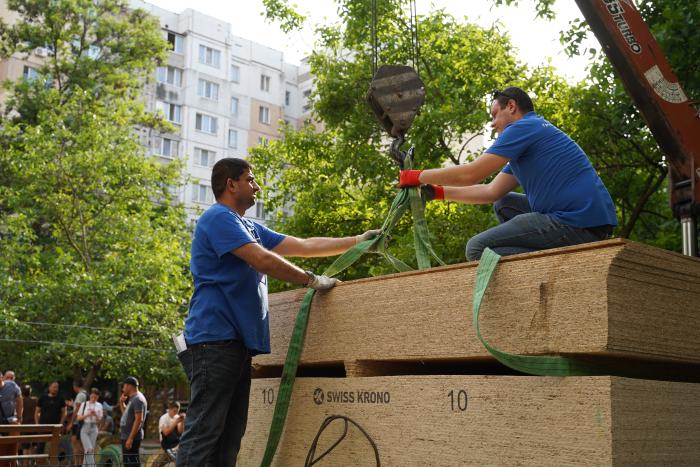 In Ukraine, the need for humanitarian assistance will remain enormous in 2024, with some 14.6 million people requiring multisectoral humanitarian assistance.
UNHCR's 2024 protection and solutions strategy is based on two operational priorities: (i) providing life-saving humanitarian assistance to people living in frontline and newly regained areas of the country and; (ii) supporting the Government of Ukraine's commitment to durable solutions, economic recovery and reconstruction through area-based and participatory approaches with the support of development and other actors.  
UNHCR will prioritize the provision of multi-purpose cash assistance to the most vulnerable people who have been directly affected by the war, while addressing early recovery needs such as shelter support for internally displaced people and returnees, as well as assistance to state-run temporary accommodation and winterization activities, as part of the coordinated inter-agency response.
Together with IOM and UNDP, UNHCR will also co-lead the Durable Solutions Steering Committee, and the Working Group on Community Planning for Durable Solutions and Recovery. 
View All
Overall, UNHCR plans to reach over 1 million people in Ukraine in 2024, with immediate humanitarian assistance, protection, shelter and cash assistance. UNHCR will aim to transition from emergency cash assistance to government-led transitional safety nets in 2024. In 2024, UNHCR will provide 200,000 IDPs and returnees with legal assistance to obtain civil status and property documentation, while 140,000 individuals will be reached with emergency shelter support and durable house repair. 
In countries neighbouring Ukraine, UNHCR will maintain its coordination role in support of refugee-hosting governments and continue protection-focused interventions. UNHCR leads the Ukraine Situation Regional Refugee Response plan (RRP), with over 300 partners in 11 countries. In line with the 2024 RRP, UNHCR will continue to transition from providing humanitarian assistance to supporting government and local authorities to effectively include refugees in national systems and services. UNHCR will align its direct assistance with the level of that accorded to beneficiaries of national protection programmes, while undertaking evidence-based advocacy and capacity-building among government counterparts and humanitarian actors in support of effective inclusion.
Small-scale, targeted cash for protection programmes and limited stockpiles of core relief items in support of preparedness will remain in place in some operations, as will activities aimed at preventing and responding to gender-based violence, sexual exploitation and abuse and trafficking. In addition, child protection response mechanisms and the shaping of law and policy will remain a priority – given the high proportion of women and children in the refugee population.
UNHCR's role in the Republic of Moldova will remain more operational, including support with obtaining civil status, identity or legal status documentation for 70,000 refugees and asylum-seekers. At Blue Dot hubs, UNHCR, UNICEF and partners will continue to provide information and referrals to specialized services, while at community centres UNHCR and partners will offer activities aimed at fostering inclusion, including language and vocational activities for refugees from Ukraine. A cash programme supporting the most vulnerable will continue.  
In the Russian Federation, UNHCR maintains a presence and will continue to provide support and referrals through counselling and hotlines, specifically for persons at heightened risk. Visits to people in temporary accommodation points for refugees from Ukraine, and activities focused on wider advocacy and capacity-building of national partners, will continue. 
The overall budget requirements for the Ukraine situation will decrease slightly in 2024. This is to mirror the decrease in the number of refugees and internally displaced people, while maintaining preparedness capacities should the situation change. Consequences of underfunding will result in fewer people who have been displaced or affected by the war being reached with cash assistance, protection services and psychosocial assistance.