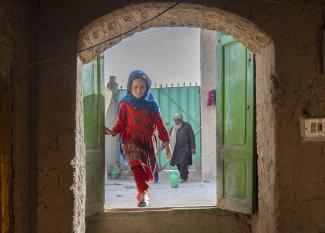 Afghan Situation
2022 Population planning figures
Refugees and asylum-seekers in Afghanistan (from Pakistan): 72,000

Afghan refugees and asylum-seekers: 2.2 million, 26% women and 50% children

IDPs: 3.8 million, 21% women and 58% children

Returned IDPs: 150,000
2022 Situation overview
The withdrawal of international troops and establishment of a de facto government in Afghanistan was preceded by a record number of conflict-related casualties in 2021 and a drastic deterioration of the humanitarian situation. By September almost 670,000 Afghans had been internally displaced, adding to some 2.9 million existing IDPs, and thousands had fled into neighbouring countries. Significant numbers of IDPs also returned home. In 2022, UNHCR will step up its response to displacement with protection, core relief items, shelter, cash and other forms of assistance, while continuing to support investments in return and reintegration.
While the situation inside Afghanistan remains fluid, in 2022 UNHCR will lead an inter-agency refugee response plan in the Islamic Republics of Iran and Pakistan and Tajikistan, Turkmenistan and Uzbekistan. The plan will respond to the needs of in-situ populations and host communities, in line with the Solutions Strategy for Afghan Refugees, as well as preparing for potential outflows. Iran and Pakistan host more than 2.2 million registered refugees from previous waves of displacement, and a further 4 million Afghans of varying statuses. UNHCR aims to support the host governments to include refugees in national services like health, education and social safety nets to improve their resilience and to advance durable solutions.
2022 Budget
Source: 2022 budget as approved by the Executive Committee of the High Commissioner's Programme at its 72nd session in October 2021.