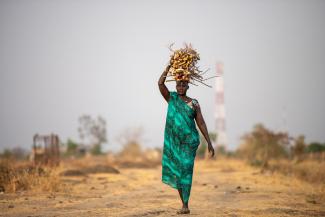 Global Report 2021
2021 Year-end population figures
Refugees: 2.34 million

IDPs: 2.02 million

Returns: 630,000 self-organized refugee returns since November 2017
2021 Situation Overview
After nearly a decade of conflict and despite efforts toward implementing the peace agreement, South Sudan continued to grapple with sporadic violence, chronic food insecurity and the devastating impact of major flooding in 2021. The COVID-19 pandemic has also strained people's resources, significantly reducing their ability to sustainably meet their needs.
The South Sudan situation continued to be the largest refugee crisis in Africa, and one of the most underfunded, with the Regional Refugee Response Plan only 17% funded. Despite some progress, peace remained fragile and humanitarian challenges, including acute food insecurity, persisted. While UNHCR did not promote or facilitate returns, over 630,000 South Sudanese have spontaneously returned since 2017, although some of the returns may have been pendular. In response to the growing number of self-organized returns, UNHCR developed a solutions-oriented, area-based approach targeting high return areas through investments in medium to long-term development and peace interventions, called "Pockets of hope," which will be piloted in 2022. Intention-to-return surveys for South Sudanese refugees in Sudan and Uganda were carried out in 2021 to inform planning and will be carried out in Ethiopia in 2022.
Governments in the five countries of asylum were supported in their efforts to integrate South Sudanese refugees in national systems for social service delivery. Refugees and local communities received help to boost their resilience by identifying and diversifying opportunities to earn a living. This was vital against a backdrop of chronic underfunding for food provision, which continued to result in regular food ration cuts.
The South Sudan situation remained a children's crisis, with two out of three South Sudanese refugees under the age of 18. Funding was required for child protection services including to ensure proper birth registration and family reunification. Many children who were affected by school closures during the pandemic in the region needed additional support to continue with learning, including additional radio programmes which were made available for primary and secondary learners as a major remote learning modality. To assist learners who did not have access to radios, UNHCR distributed solar-charging radios to households with school-aged children to support their continuity of learning as well as self-study materials and textbooks. 
South Sudan Situation
2022 Population planning figures
Refugees: 2.1 million
Asylum-seekers: 1,600 
IDPs: 1.3 million
Stateless persons: 10,000
Refugee returnees: 615,000
2022 Situation overview
Outbreaks of conflict, annual flooding as a result of climate change, and food insecurity continue to mar achievements on the humanitarian front, requiring agencies to maintain contingency stocks and rapid response capacity. While UNHCR does not promote or facilitate repatriation currently, self-organized returns are taking place, often to areas of South Sudan where access to basic services is extremely limited. There are also many movements across borders triggered by hardship in asylum countries, notably drastic reductions in food rations.
Human rights and humanitarian law violations are being committed by a variety of armed actors. Upper Nile and Equatoria states have become flashpoints for the resurgence of sub-national conflicts between clans and sub-clans, forcing people into displacement. This trend will likely continue in 2022 unless underlying causes linked to power sharing are resolved at the grass-roots community level. 
UNHCR aims to comprehensively address the protection needs of South Sudanese refugees with a particular emphasis on children, women and youth. Biometric registration, documentation and data management – in collaboration with host governments to support implementation of durable solutions strategies – will continue. Exploring and pursuing innovative approaches to refugee protection and self-reliance based on participatory assessments with all stakeholders will be critical. This includes systematically expanding cash assistance and other initiatives aimed at alleviating the dependency of refugees on aid.
The South Sudan Regional Refugee Response Plan includes 93 operational partners and will cater to the needs of nearly 2.1 million South Sudanese refugees in the Democratic Republic of the Congo, Ethiopia, Kenya, Sudan and Uganda in 2022.
2022 Budget
Source: 2022 budget as approved by the Executive Committee of the High Commissioner's Programme at its 72nd session in October 2021.