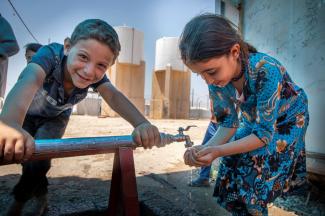 Iraq Situation Response
2022 Population planning figures
Refugees and asylum-seekers in neighbouring countries (including Turkey): 263,700
IDPs: 1 million
Women: 50%
Children: 43%
Women and Children: 71.7 %
2022 Situation overview
UNHCR's work in Iraq is gradually transitioning from an emergency response to a longer-term development approach. In 2022, UNHCR's focus will be on promoting inclusion in social protection schemes, strengthening access to national services and employment opportunities, identifying comprehensive protection and solutions strategies for people of concern, and promoting the sustainability of return through small-scale infrastructure projects. At the same time, Iraq will likely continue to face economic, political and security challenges, many of which have been magnified by COVID-19.
The needs of the internally displaced and returnee population will remain high. IDP and returnee families will continue to face lack of access to basic services, destroyed or damaged property and critical infrastructure, a shortage of livelihood opportunities and financial resources in areas of return, and lack of civil documentation.
UNHCR will work closely with partners, including local authorities, to improve the living conditions of IDPs in camp and non-camp settings, including through the provision of cash assistance and core relief items. UNHCR will strengthen partnerships with development actors to better ensure the systematic inclusion of people of concern into national development plans and development-oriented programmes. UNHCR will continue to co-lead and coordinate the Protection, Camp Coordination and Camp Management (CCCM), and Shelter clusters for the IDP response.