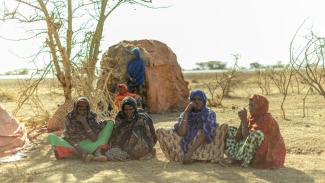 Global Report 2021
2021 Year-end population figures
Refugees (Ethiopian refugees in Sudan and Eritrean refugees in Ethiopia): 215,000

IDPs: 3.6 million
2021 Situation Overview
By the end of 2021, the conflict situation that began in the Tigray region of Ethiopia in November 2020 had significantly worsened with reported internal displacement and ongoing cross-border movements into Sudan. An estimated 3.6 million people were internally displaced as the conflict spread to the regions of Afar and Amhara. The establishment of a new refugee site in the Amhara region began in 2021 and was expected to host some 25,000 Eritrean refugees remaining in the camps in Tigray, as soon as voluntary relocation is possible.
A total of 57,000 Ethiopian refugees, (majority of whom arrived in 2020) were registered in Sudan by the end of 2021 where the emergency response remained focused on providing life-saving assistance and protection in the new refugee camps in Gedaref and Blue Nile states in Sudan, while ensuring preparedness in the event of a new influx.
UNHCR scaled up its response to address the humanitarian needs of IDPs for protection, shelter and core relief items in the Tigray region with the onset of the crisis. In 2021, UNHCR increased the operational footprint throughout Tigray and expanded its presence and operational response into Afar and Amhara regions as of August 2021. As UNHCR expanded its presence, UNHCR also activated and strengthened coordination leadership roles for the protection and camp coordination and camp management clusters, which are now active in all three regions. Stocks of core relief items for over 100,000 people were also put in place.
In the last quarter of 2021, over 1.2 million IDPs in northern Ethiopia were provided with protection and assistance services. UNHCR activated sub-regional protection clusters, with partnerships for protection outreach and monitoring activities in key locations, establishing a total of 65 protection desks for counselling, referrals and case management in the three regions.
In eastern Sudan, host to refugees from northern Ethiopia, UNHCR and other partner agencies worked to strengthen protection and continued to provide assistance in 2021. UNHCR operated in the refugee-hosting sites: Um Rakuba camp, Tunaydbah camp, Hamdayet transit centre, Babikri, Village 6 and Village 8 reception centre.
With anticipated new arrivals in 2022, UNHCR planned to expand the existing Tunaydbah and Um Rakuba camps for Ethiopian refugees while putting in place a contingency plan for larger arrivals at the same time. An additional site was identified for potential arrivals from the Amhara region.
UNHCR and partners made significant efforts in scaling up the protection response, with particular attention to gender-based violence and sexual exploitation and abuse. Some of the key areas of work included strengthening referral pathways, data sharing, awareness raising, and supporting community-based networks including additional protection desks and child friendly spaces and psychosocial support. Inter-agency training was provided to government officials, humanitarian actors and refugee volunteers.
Ethiopia Emergency
2022 Population planning figures
Eritrean refugees: 150,000

Ethiopian IDPs: 1.3 million

Ethiopian refugees: 69,000
2022 Situation overview
In Ethiopia, the dynamics of the conflict in northern Ethiopia remain complex and fluid, leading to new displacements, hindering humanitarian access to the affected populations and hampering effective delivery of protection and assistance.
It is estimated that 3.5 million Ethiopians may be internally displaced in 2022 in Tigray, the neighbouring regions of Amhara and Afar, and other regions where conflict has spread in recent months. While not directly related to the Tigray conflict, the Benishangul Gumuz, Oromia and Somali regions of Ethiopia have also reported new internal displacement due to inter-communal violence. Continued fighting, intermittent access and difficulty in positioning supplies have also affected tens of thousands of vulnerable Eritrean refugees in Tigray and more recently in Afar. Some 58,000 Ethiopian refugees have crossed into Sudan.
In 2022, UNHCR will provide essential aid to Ethiopian IDPs and Eritrean refugees affected by the conflict, such as shelter, domestic items and protection services, including support for survivors of gender-based violence. Cash assistance will be provided where possible.
In Sudan, UNHCR will continue its response in eastern Sudan and Blue Nile state, providing protection assistance, shelter, water and sanitation, health and logistics support. UNHCR will also maintain emergency preparedness by prepositioning supplies and facilities at border points for any new arrivals from Ethiopia. 
2022 Budget
Source: 2022 budget as approved by the Executive Committee of the High Commissioner's Programme at its 72nd session in October 2021.