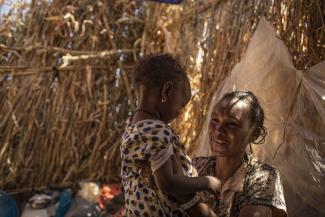 Ethiopia Emergency
2022 Population planning figures
Eritrean refugees: 150,000

Ethiopian IDPs: 1.3 million

Ethiopian refugees: 69,000
2022 Situation overview
In Ethiopia, the dynamics of the conflict in northern Ethiopia remain complex and fluid, leading to new displacements, hindering humanitarian access to the affected populations and hampering effective delivery of protection and assistance.
It is estimated that 3.5 million Ethiopians may be internally displaced in 2022 in Tigray, the neighbouring regions of Amhara and Afar, and other regions where conflict has spread in recent months. While not directly related to the Tigray conflict, the Benishangul Gumuz, Oromia and Somali regions of Ethiopia have also reported new internal displacement due to inter-communal violence. Continued fighting, intermittent access and difficulty in positioning supplies have also affected tens of thousands of vulnerable Eritrean refugees in Tigray and more recently in Afar. Some 58,000 Ethiopian refugees have crossed into Sudan.
In 2022, UNHCR will provide essential aid to Ethiopian IDPs and Eritrean refugees affected by the conflict, such as shelter, domestic items and protection services, including support for survivors of gender-based violence. Cash assistance will be provided where possible.
In Sudan, UNHCR will continue its response in eastern Sudan and Blue Nile state, providing protection assistance, shelter, water and sanitation, health and logistics support. UNHCR will also maintain emergency preparedness by prepositioning supplies and facilities at border points for any new arrivals from Ethiopia.