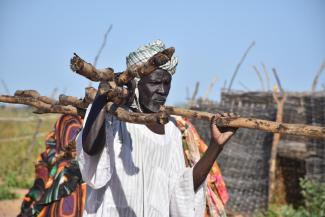 Global Report 2021
2021 Year-end population figures
Refugees and asylum seekers: 737,000

IDPs: 692,000

IDP and refugee returns: 377,000
2021 Situation overview
The start of 2021 saw an influx of tens of thousands of Central African refugees into neighbouring countries, as post-electoral violence forced them to flee their homes. Throughout the year, the political and security situation improved but remained volatile and precarious in the country, which is home to one of the most protracted refugee situations in the world. The prevalence of gender-based violence, a rise in child protection incidents and the increased use of explosive devices contributed to an unfavourable and uncertain protection environment. Despite this difficult context, a ceasefire in the autumn and the resulting improvement of security conditions allowed UNHCR to resume supporting voluntary returns in October 2021, offering prospects and solutions for Central Africans wishing to return. In the final quarter of the year, UNHCR organized the voluntary repatriation of around 5,600 Central African refugees to safe areas within the country, with many IDPs also electing to regain their homes.
In addition to strengthening its presence in key return areas, UNHCR worked to improve the protection environment. In 2021, UNHCR set up and supported 89 protection committees, and identified and analysed close to 8,000 protection incidents. UNHCR strengthened its gender-based violence response by reinforcing, rehabilitating and equipping 26 dedicated support centres so that they could provide survivors with holistic support (psychosocial support; quality casework; referral services with additional support for transport and medical fees; dignity kits and other material and financial support; communal support and group activities for survivors), while also introducing a hotline enabling survivors located in remote areas to benefit from psychosocial support and case management. In total, close to 3,600 survivors benefited from those enhanced gender-based violence protection services in 2021.
To protect IDPs, UNHCR continued to lead the protection, shelter/core relief items and camp coordination and camp management clusters. Over 14,000 internally displaced people received core relief item kits, and UNHCR covered and reinforced 40% of all IDPs' shelters with plastic sheets. In addition, UNHCR continued its advocacy efforts, promoting the domestication of the Kampala Convention and actively pursuing regional dialogue with governments and partners in the search of solutions for all affected populations in the Central African Republic and host countries.
Central African Republic Situation
2022 Population planning figures
Refugees: 622,000
IDPs: 580,000
Other people of concern: 250,000
2022 Situation overview
While tensions in Central African Republic (CAR) persist, opportunities for solutions still exist. After forcing more than 200,000 Central Africans to flee within the country and throughout the region, the violence that erupted in December 2020 abated and the security situation improved in certain areas, allowing UNHCR to resume voluntary returns in October 2021. In 2022, UNHCR will continue to facilitate safe and orderly repatriation while providing support in vital areas such as protection, shelter, education and livelihoods to meet the most urgent needs of displaced Central Africans.
The CAR situation remains one of the most protracted and many refugees may remain in host countries for the near future. Expanding local opportunities and enhancing self-reliance as a precursor to solutions remains critical. UNHCR has called on the international community to find ways to respond to the growing needs of refugees and their host communities. Towards this goal, UNHCR will support the launch of a CAR support platform to mobilize political, technical and financial support from all relevant stakeholders at local, regional and global level towards achieving solutions for displaced populations in the CAR and neighbouring countries.
2022 Budget
Source: 2022 budget as approved by the Executive Committee of the High Commissioner's Programme at its 72nd session in October 2021.