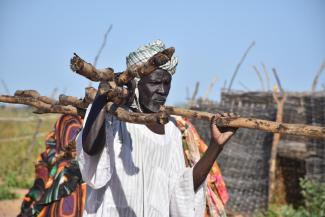 Central African Republic Situation
2022 Population planning figures
Refugees: 622,000
IDPs: 580,000
Other people of concern: 250,000
2022 Situation overview
While tensions in Central African Republic (CAR) persist, opportunities for solutions still exist. After forcing more than 200,000 Central Africans to flee within the country and throughout the region, the violence that erupted in December 2020 abated and the security situation improved in certain areas, allowing UNHCR to resume voluntary returns in October 2021. In 2022, UNHCR will continue to facilitate safe and orderly repatriation while providing support in vital areas such as protection, shelter, education and livelihoods to meet the most urgent needs of displaced Central Africans.
The CAR situation remains one of the most protracted and many refugees may remain in host countries for the near future. Expanding local opportunities and enhancing self-reliance as a precursor to solutions remains critical. UNHCR has called on the international community to find ways to respond to the growing needs of refugees and their host communities. Towards this goal, UNHCR will support the launch of a CAR support platform to mobilize political, technical and financial support from all relevant stakeholders at local, regional and global level towards achieving solutions for displaced populations in the CAR and neighbouring countries.
2022 Budget
Source: 2022 budget as approved by the Executive Committee of the High Commissioner's Programme at its 72nd session in October 2021.