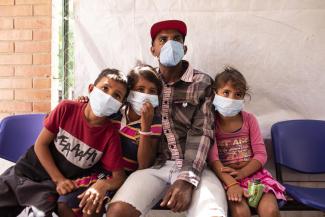 Venezuela Situation
2022 Population planning figures
Refugees and asylum-seekers in Latin American and Caribbean countries: 1 million
Venezuelans displaced abroad* in Latin American and Caribbean countries: 5 million
Others of concern in Venezuela: 7 million
*Various interconnected factors are causing Venezuelans to leave, but given the deteriorating political, socioeconomic and human rights conditions, it is clear that international protection considerations are applicable to the majority of Venezuelans. Venezuelans displaced abroad are included in the global forced displacement total.
2022 Situation overview
In 2021, population outflows from the Bolivarian Republic of Venezuela continued towards Latin America and the Caribbean as movement restrictions were progressively lifted. Loss of livelihoods, evictions, and rising xenophobia compounded a challenging socioeconomic environment, triggering secondary movements of Venezuelans settled in host countries. A few spontaneous returns were observed in 2021.
The remaining border restrictions resulted in many Venezuelan refugees and migrants resorting to irregular movements in the region, which exposed them to additional risks of gender-based violence, exploitation, or physical risks. UNHCR enhanced its presence in isolated areas to monitor and prevent deportation or expulsions at the borders. In 2022, UNHCR aims to prioritize critical activities like assistance, identification and referral to services for persons at heightened risk. UNHCR will support the ongoing national efforts offering regular stay and documentation to Venezuelans. Enhanced advocacy with local and national authorities will be key to allow for progressive opening of social protection programmes for refugees.
The internal situation in the Bolivarian Republic of Venezuela is expected to remain complex in 2022. With sufficient funds, UNHCR will sustain the support to prioritized communities as planned under the inter-agency humanitarian response.
UNHCR, with IOM, will foster the implementation of the Regional Refugee and Migrant Response Plan across 17 countries. Also, UNHCR and IOM will bolster the governmental coordination of the Quito Process (an initiative of several Latin American countries that seeks to harmonize domestic policies in the receiving countries) through technical support.