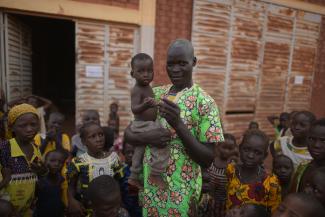 Global Report 2021
2021 Year-end population figures
Refugees and asylum seekers (Burkina Faso, Mali, Mauritania and Niger): 231,000, 78% women and children

IDPs (Burkina Faso, Mali and Niger): 2.1 million IDPs

IDP and refugee returns: 79,000

Other people of concern (Niger): 50,000
2021 Situation overview
The security environment in the Sahel continued to deteriorate in 2021, with serious implications on the lives of people of concern to UNHCR. Despite military operations carried out by national and international security forces, extremist, non-state and other armed groups continued to maintain a strong foothold in the Mali-Niger-Burkina Faso tri-border area and expanded their reach towards coastal countries, subjecting civilian populations to violence and repeated attacks. Within the past two years, the number of refugees and IDPs in the central Sahel has grown by over 200%, with almost 2.1 million at the end of 2021. With coastal countries increasingly threatened by the Sahel conflict and instability, influxes from Burkina Faso into Benin and Côte d'Ivoire took place in 2021 and were expected to continue in 2022. In addition, high population growth and climatic hazards contributed to growing food insecurity in the Sahel. Repeated shocks, including droughts and floods, greatly affected the livelihoods of the most vulnerable in 2021, including forcibly displaced people, leaving many without shelter and giving rise to tensions with host communities grappling with their own vulnerabilities.
To address the growing needs of people forced to flee in the Sahel, UNHCR's response focused on protection, emergency preparedness, shelter and core relief items, prevention of and response to gender-based violence, education and an environmentally conscious approach. UNHCR distributed $6.5 million in cash assistance to people of concern, while 167,000 benefited from shelter support and 185,000 were reached with life-saving core relief items. UNHCR supported gender-based violence survivors and enhanced community-based child protection and education responses. By the end of 2021, in the Sahel region, 57,000 forcibly displaced children were enrolled in primary school thanks to UNHCR's support. This was a marked increase compared to 2020, as the effects of the pandemic started to wane and UNHCR was able to support children's return to school. However, insecurity in the Sahel continued to disrupt children's access to education, with schools increasingly being taken as targets by non-state armed groups. UNHCR also reinforced its leadership in the protection, camp coordination and camp management and shelter/core relief items clusters to better support internally displaced people.
UNHCR supported the intergovernmental Bamako Process, which aims to enhance the protection environment in the Sahel, and worked closely with government partners to increase registration and access to documentation of people of concern. Jointly with the Danish Refugee Council, UNHCR co-led Project 21, a protection monitoring project involving over 20 other protection actors that aims to enhance common, evidence-based analysis, advocacy and programming in the Sahel. In 2021, close to 7,000 interviews were conducted with key informants or heads of households in Burkina Faso, Mali and Niger. In addition, UNHCR sought to work along the peace-humanitarian-development nexus and deepen its partnerships with development actors to help address the root causes of the Sahel crisis. In cooperation with the World Bank and the Government of Burkina Faso, UNHCR supported municipalities and key local actors with capacity-building to help them improve their emergency response in the areas of the country most affected by forced displacement.
Sahel Situation
2022 Population planning figures
Refugees: 1 million
IDPs: 3 million
Other people of concern: 569,000
2022 Situation overview
Forced displacement is at an unprecedented high, with over 4 million refugees and internally displaced people across the region, increasingly concentrated around urban centres, creating additional strain on land availability, housing, public services and livelihoods. As conflict and violence shows no sign of abating in the Sahel, more families are expected to flee their homes in 2022.
In this extremely difficult and volatile context, UNHCR will launch a revised strategy in 2022 to structure its response in the Sahel. UNHCR will continue to support the emergency response with a focus on provision of shelter and core relief items, education, and climate action, as well prevention of and response to gender-based violence. As the conflict continues to expand southwards with an impact on coastal countries, UNHCR will also sustain its support to these countries in their emergency preparedness and contingency planning.
To seek solutions and better address the deep-seated and intertwined root causes of the regional crisis, UNHCR will also ensure that the humanitarian response is complemented by more long-term interventions. Launched to implement the conclusions of the Bamako Declaration of 2019, and bringing together the Governments of Burkina Faso, Chad, Mali, Mauritania and Niger as well as key humanitarian, development and peace actors, the Bamako process will play a key role in this coordination effort.
2022 Budget
Source: 2022 budget as approved by the Executive Committee of the High Commissioner's Programme at its 72nd session in October 2021.