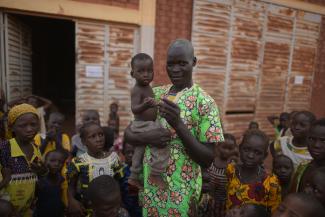 Sahel Situation
2022 Population planning figures
Refugees: 1 million
IDPs: 3 million
Other people of concern: 569,000
2022 Situation overview
Forced displacement is at an unprecedented high, with over 4 million refugees and internally displaced people across the region, increasingly concentrated around urban centres, creating additional strain on land availability, housing, public services and livelihoods. As conflict and violence shows no sign of abating in the Sahel, more families are expected to flee their homes in 2022.
In this extremely difficult and volatile context, UNHCR will launch a revised strategy in 2022 to structure its response in the Sahel. UNHCR will continue to support the emergency response with a focus on provision of shelter and core relief items, education, and climate action, as well prevention of and response to gender-based violence. As the conflict continues to expand southwards with an impact on coastal countries, UNHCR will also sustain its support to these countries in their emergency preparedness and contingency planning.
To seek solutions and better address the deep-seated and intertwined root causes of the regional crisis, UNHCR will also ensure that the humanitarian response is complemented by more long-term interventions. Launched to implement the conclusions of the Bamako Declaration of 2019, and bringing together the Governments of Burkina Faso, Chad, Mali, Mauritania and Niger as well as key humanitarian, development and peace actors, the Bamako process will play a key role in this coordination effort.
2022 Budget
Source: 2022 budget as approved by the Executive Committee of the High Commissioner's Programme at its 72nd session in October 2021.