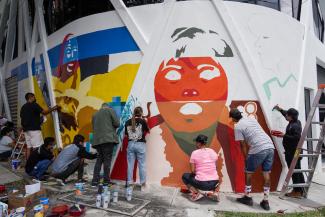 El Salvador, Guatemala and Honduras Situation
2022 Population planning figures
IDPs: 473,600
Refugees and asylum-seekers in Latin America and Caribbean countries*: 148,200
Others of concern: 208,342
*This projection does not include Mexico and US.
2022 Situation overview
In 2021, a growing number of families, unaccompanied children and individuals were forced to leave their homes in El Salvador, Guatemala and Honduras, a trend that is expected to persist in 2022. Widespread violence, fragile institutions, impact of climate change and deep-rooted inequalities compounded by the pandemic-related socioeconomic downturn contributed to displacement across borders and inside Honduras and El Salvador. Along with Mexico, the countries in Central America are increasingly becoming host to those in search of protection, while remaining transit countries for people from the south of the continent and beyond. The reintegration of those who have returned remains critical to ensuring future opportunities and mitigating the risk for further displacement.
In 2022, UNHCR will further support national efforts to address the causes and consequences of forced displacement in the region. In alignment with Humanitarian Response Plans in El Salvador, Guatemala and Honduras, UNHCR aims to implement multifaceted responses aligned with national plans designed under the Comprehensive Regional Framework for Protection and Solutions (MIRPS).