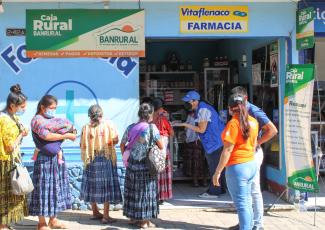 Global Appeal 2023
2023 population planning figures* 
Refugees and asylum-seekers: 234,000 
*This includes forcibly displaced people in Costa Rica, El Salvador, Guatemala, Honduras, Mexico and in countries served by MCO Panama. 
**Includes 117,700 IDPs in El Salvador and 271,800 IDPs and 123,300 people in an IDP-like situation in Honduras. 
2023 situation overview 
Violence, insecurity, fragile institutions, the impact of climate change and deep-rooted inequalities will force more people to flee, either within their own countries or across borders within the sub-region.  
In line with the Los Angeles Declaration on Migration and Protection, and in support of the implementation of the Comprehensive Regional Framework for Protection and Solutions (MIRPS) and related national policy commitments, UNHCR will continue to support countries of the sub-region to address the causes and impact of forced displacement. This entails strengthening refugee protection frameworks and expanding access to asylum systems and other legal stay arrangements, with specific focus on furthering local integration prospects and other solutions, including resettlement and complementary pathways.  
UNHCR's interventions, aligned with the Humanitarian Response Plans in El Salvador, Guatemala and Honduras, will prioritize enhancing national protection systems and scaling up community-based protection through increased field presence in prioritized communities affected by violence or at risk of displacement. Moreover, identification and referral mechanisms for people with protection needs will be expanded. This will entail closer collaboration with civil society, strengthening communities' prevention and protection response, and the promotion of State institutions' presence in targeted communities. Priority will be given to investments that support national human rights institutions, education, prevention and response to gender-based violence, child protection programmes, temporary protection alternatives, and – where possible – solutions through the expansion of sustainable local integration programmes. The sub-region is hosting an increasing number of Nicaraguans seeking protection, mainly in Costa Rica, where 180,000 asylum-seekers had been recorded by mid-2022. Given the current trend of 10,000 new claims per month, the number of asylum-seekers in Costa Rica could reach 360,000 by the end of 2023, with increasing numbers in Honduras and Panama. 
Global Report 2021
2021 Year-end population figures 
Refugees: 131,000   

Asylum seekers: 484,000  

IDPs: 319,000 
Other populations of concern: 254,000  
2021 Situation overview  
The root causes of this displacement situation are multiple and interrelated: widespread violence, territorial control by criminal organizations and gangs, fragile institutions, the impact of climate change and deeply entrenched inequalities – all compounded by the pandemic. 
In 2021, growing numbers of people were forced to leave their homes in El Salvador, Guatemala and Honduras. By year-end there were nearly 600,000 asylum seekers and refugees from these countries, mainly in Costa Rica, Mexico and the United States of America. It is estimated that approximately 320,000 people were internally displaced in El Salvador and Honduras, although the actual number could be higher. In addition, significant cross-border movements, predominantly of Cubans, Haitians and Venezuelans, continued to be reported, putting additional pressure on asylum systems, mostly in Central America and Mexico. 
Strengthened asylum capacity enabled States to process more asylum applications and provide alternative protection for those in need. The number of asylum seekers and refugees in Central America and Mexico rose from 33,000 in 2015 to 296,000 by mid-2021. Mexico has become the fourth-largest recipient country of new asylum claims in the world with more than 131,000 new asylum applications in 2021. Similarly, Central American States, while remaining mostly transit countries, increasingly hosted people in search of protection. 
In coordination with partners, UNHCR supported a range of multisectoral humanitarian and protection services under the humanitarian response plans in El Salvador, Guatemala, and Honduras. In addition, in the framework of the Comprehensive Development Plan for El Salvador, Guatemala, Honduras and south and southeast Mexico, a package of priority projects was consolidated to support developmental investments in strengthening the response capacity of national institutions and the effective inclusion of displaced people.  
UNHCR worked with multiple stakeholders, including national and state-departmental authorities, parliaments and local governments to promote institutional frameworks and policies on the prevention of internal displacement and protection of IDPs such as in El Salvador, Honduras and Mexico. Furthermore, national authorities were supported with developing national statistics and information on IDPs, in line with the international recommendations on IDP statistics. 
In Central America and Mexico, UNHCR supported the Comprehensive Regional Protection and Solutions Framework (MIRPS) as part of the Technical Secretariat. With Guatemala holding the MIRPS pro tempore presidency for 2021, UNHCR enhanced the coordination of Member States for technical consultations and joint operational planning to complement existing political dialogue.  
MIRPS leveraged support from States, international financial institutions, the private sector, regional bodies and other stakeholders to offer further protection and solutions to forcibly displaced people in the region. The Inter-American Development Bank joined the platform in April 2021, strengthening coordination with development actors. In July 2021, Canada took the leadership of the platform for the next 12 months, with a focus on the protection and empowerment of women and girls on the move.