View All
2024 population planning figures
12.2 million forcibly displaced and stateless people¹ | 9% of global total 

Regional overview 
The number of forcibly displaced people, returnees, and stateless people in the 16 countries of the southern Africa region is expected to rise to 12.2 million in 2024, mostly people uprooted by the complex emergencies in the Democratic Republic of the Congo (DRC) and Mozambique. The region also struggles with protracted displacement and mixed migration from sub-Saharan Africa. 
Across southern Africa, displaced people and the communities that host them are increasingly susceptible to inequality, conflict, food insecurity, fragile systems and natural disasters. Gender-based violence and asylum restrictions are of growing concern, most notably due to the rising instability in the DRC, the forced relocation of refugees and asylum-seekers to Malawi's Dzaleka camp in 2023, and xenophobic violence in South Africa and elsewhere. Disease outbreaks in areas with already limited health services, and tropical storms, cyclones, and severe drought, exacerbated by the El Niño weather phenomenon, are expected to bring devastation to communities across the region. The deterioration of fragile economies will hamper supply chains and heighten competition for resources, interrupting the availability of food. Lastly, the withdrawal of MONUSCO from the DRC after the presidential elections in late 2023 will expose millions to violence, insecurity, and displacement.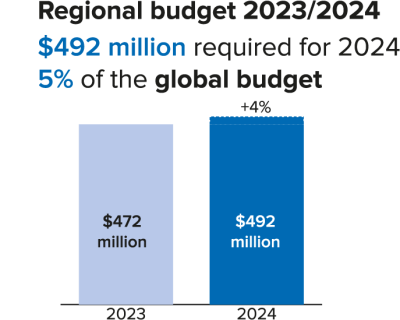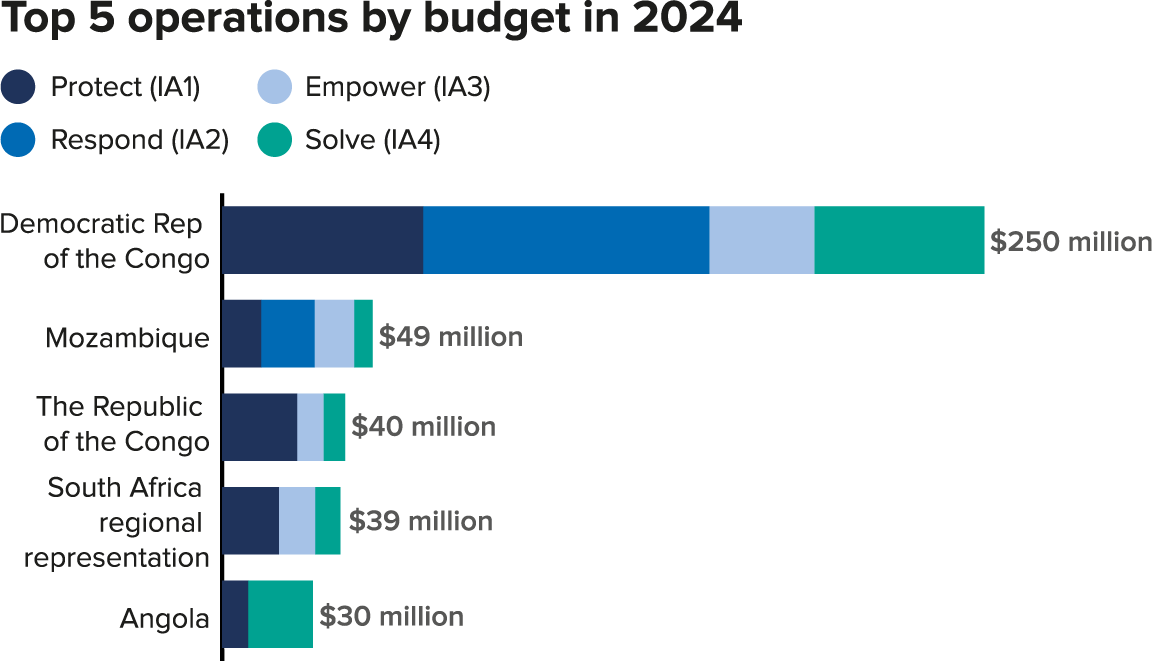 View All
UNHCR has budgeted needs of $492.2 million for the region in 2024, a 4% increase from the 2023 budget. In the past few years, underfunding of UNHCR's activities in southern Africa has increased due to donor fatigue and competing emergencies, obliging the Office to make painful reductions in critical areas such as health, education and shelter. Amid an even more dire funding outlook in 2024, UNHCR will focus on five areas: asylum space, protection, community empowerment, solutions and inclusion. Its activities will aim to address current and upcoming challenges and ensure a sustainable response. 
To increase asylum space, combat statelessness and ensure displaced people have full access to their rights, UNHCR will support national asylum authorities to strengthen the registration of people in need of international protection, and to process asylum claims rapidly, fairly and efficiently. In the DRC, which hosts the largest number of refugees and asylum-seekers in southern Africa, UNHCR will seek to provide documents for at least 80% of this population and ensure 66% of births are registered with civil authorities. UNHCR will collaborate with regional entities such as the Southern Africa Development Community to advance the implementation of the regional roadmap on asylum systems and the regional migration policy framework. UNHCR will advocate for States' ratification and full adoption of relevant international frameworks, while engaging with other stakeholders to address mixed flows and onward movements.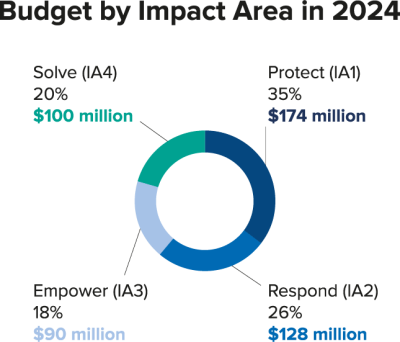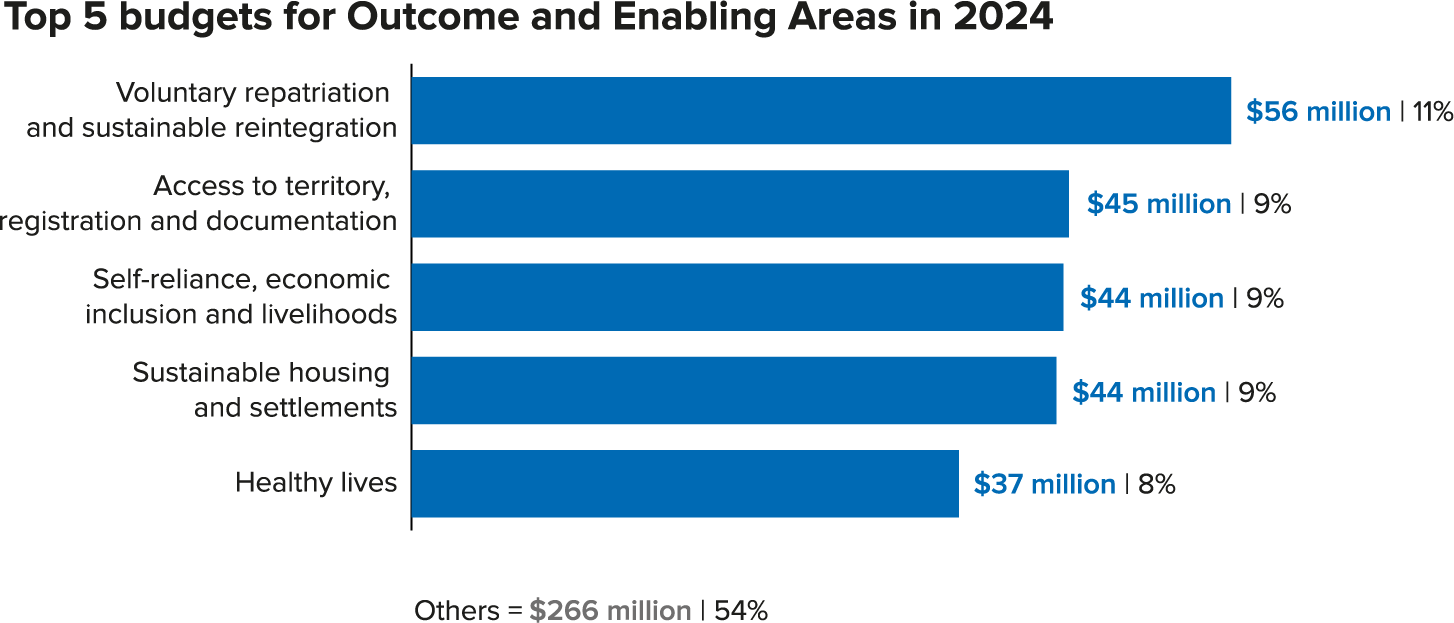 View All
Protection will be the mainstay of UNHCR's activities. In the DRC, training on safer and sustainable building techniques for local workers will ensure that UNHCR's shelter assistance is compliant with international standards and that environmental impact and hazard mitigation is integrated into activities. In Mozambique, UNHCR will promote climate-smart agriculture and circular economy practices, enhancing emergency preparedness for natural disasters. Across the region, UNHCR will invest in its work on gender-based violence and child protection and will bolster accountability processes and seek to involve the whole spectrum of community members in decision-making and awareness-raising efforts. 
UNHCR will pursue durable solutions to the plight of refugees in southern Africa, with 63,000 needing resettlement in 2024. Others will need support for voluntary repatriation, including to Burundi, the Central African Republic and the DRC, and UNHCR will explore innovative responses and complementary pathways. To increase people's self-reliance and help their integration into the community, UNHCR will work with States, donors and development actors to advance pledges made at the Global Refugee Forum, ensure the inclusion of refugees in national systems and boost links between humanitarian, development and peace efforts in refugee-hosting areas, with a goal of shifting from emergency assistance towards sustainable solutions. 
For the latest operational and funding updates on the Southern Africa region check this page.