View All
Global needs in 2024

People who are forced to flee from their homes often have to start from scratch in their place of refuge. UNHCR assists them with cash, core relief items (CRIs), and fuel for cooking and heating. The demand for this assistance is extremely high following an unprecedented series of emergencies, and millions of people remain in need.
Cash assistance has undeniably helped cover people's basic needs, and 89% of recipients surveyed in 2022 said they preferred to receive assistance wholly or partly as cash. Cash can present problems for refugees and other vulnerable populations, especially women, who are unable to access digital financial systems, but overall more cash is needed: only 25% of those surveyed in 2022 said they could meet half or more of their daily needs, down from 31% in 2021. Complementing the cash assistance, the provision of CRIs will be centrally maintained for 1 million people in UNHCR's seven strategic Global Stockpile warehouse locations to respond to new emergencies.
Clean fuel is vital because as of 2023, 87% of displaced people living in and around camps still depend heavily on collecting firewood for cooking, which is harmful to their health, unsustainable for the environment, and presents risks for their safety and security. Transitioning to cleaner and sustainable sources of fuel and technology is key to fighting climate change and reducing pressure on the hosting environment, especially in climate-vulnerable areas. Climate change and environmental crises such as deforestation are critical problems in refugee situations. Environmental degradation also heightens the risk of conflict between refugees and hosts.
View All
Global needs for Well-being and basic needs in 2024
$2.339 billion
-10% vs 2023 current budget
View All
A sample of core outcome indicators
8.1 Proportion of people that receive cash transfers or in-kind assistance
| | | | | |
| --- | --- | --- | --- | --- |
| Country | Population Type | Baseline | Target 2023 | Target 2024 |
| Egypt | Refugees and Asylum-seekers | 33% | 55% | 60% |
| Mexico | Refugees and Asylum-seekers | 49% | 68% | 58% |
| Ukraine | IDPs | 43% | 45% | 45% |
| Ukraine | Refugees and Asylum-seekers | 100% | 100% | 100% |
| Yemen | IDPs | 31% | 35% | 35% |
| Yemen | Refugees and Asylum-seekers | 64% | 70% | 75% |
| | | |
| --- | --- | --- |
| UNHCR's targets for management of core relief items | Target 2023 | Target 2024 |
| Maintain sufficient stock and pipeline of CRIs to enable response to field needs, particularly emergencies, respecting a minimal coverage target of 1 million people | 1M | 1M |
| Reduction of CO2 through the introduction of "greener" CRIs to ensure the sustainability of the end-to-end supply chain | 5% | 10% |
| Number of CRIs and other items for which new "greener" specifications are developed | 7 | 10 |
| Concentration of source markets (top 5 source countries) for 10 selected CRIs decreased through alternative sustainable sourcing | 95% | 90% |
View All
How UNHCR will make a difference
In 2024, UNHCR will invest in targeting the wellbeing and basic needs of forcibly displaced and stateless people in 135 countries. UNHCR aims to provide $600 million in cash assistance to 7 million people in 100 countries in 2024, in line with its "Policy on cash-based interventions 2022-2026", which promotes a "why not cash?" approach to prioritize cash wherever possible, including in emergencies. 95% of cash is "unrestricted", giving people the choice of how best to meet their own needs. It is also cost-efficient, especially when delivered electronically.
80% of recipients already receive cash digitally, via bank cards or mobile money for example, and UNHCR plans to expand this further in 2024, with 37% of refugees and IDPs having beneficiary-owned payment mechanisms.
Cash also contributes to inclusion, since it brings displaced populations into the local economy, with links to financial inclusion and social protection. In 2024, UNHCR will advocate with regulatory authorities for "know your customer" requirements and financial inclusion regulations to meet the needs of forcibly displaced and stateless people, as per its guidance "Cash assistance and access to formal financial services".
To strengthen monitoring, financial management and accountability of cash assistance, UNHCR's cash management system CashAssist will expand to 60 countries, and post-distribution monitoring to 75 countries. UNHCR will conduct impact assessments of cash assistance in six countries, and expand the use of common cash transfer mechanisms with humanitarian partners to 30 countries. It also aims to significantly increase local co-chairmanship of Cash Working Groups in refugee settings.
To meet basic needs, UNHCR also maintains Global Emergency Stockpiles of essential items to respond to the needs of up to 1 million people in new emergencies, and regularly reviews and optimizes this network.
UNHCR is committed to reducing the carbon emissions generated by the procurement, delivery and use of relief items by 20% before 2025, and aims to reach the 10% mark in 2024, up from 5% in 2023. UNHCR will add three more environmentally friendly product specifications in 2024 to the current six, cutting back on single-use plastic packaging and virgin plastic materials and increasing the proportion of recycled material.
Regional needs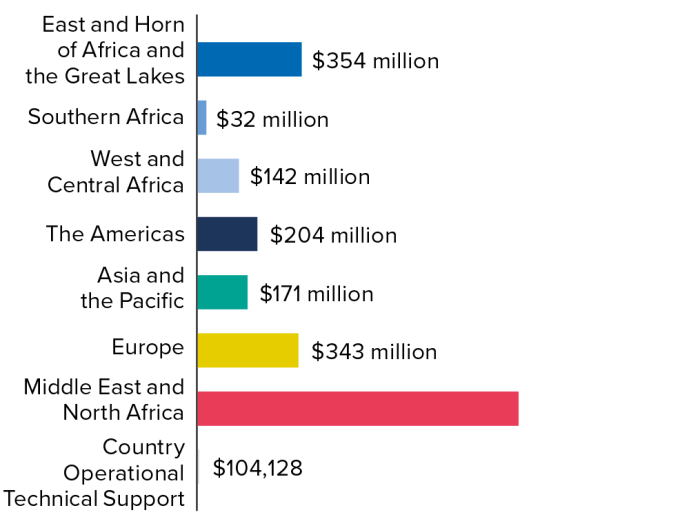 Top ten operational budgets for Well-being and basic needs (USD millions)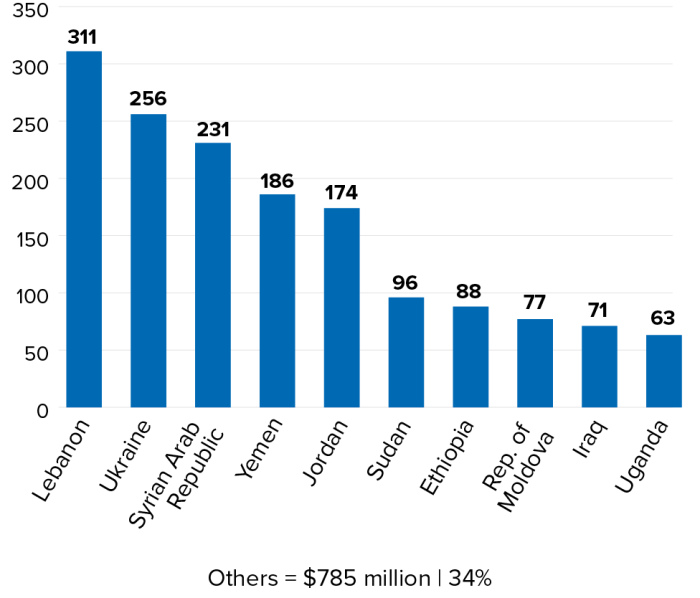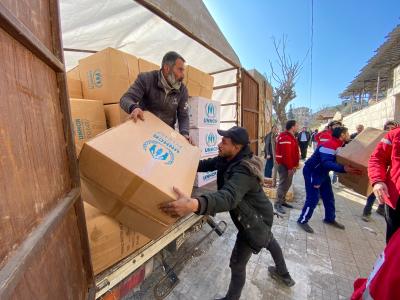 Japan's private sector rallies in response to global emergencies
Since 2023, private Japanese companies have demonstrated increased solidarity and support toward global humanitarian responses, donating nearly $15 million to the Ukraine situation and people affected by the earthquakes in the Syrian Arab Republic and Türkiye. In 2024, private donors in Japan will continue to play a pivotal role in enabling UNHCR to efficiently deliver aid and develop lasting solutions for those affected by global displacement crises.
View All
The Office will explore alternative sourcing to decrease the geographical concentration of source markets for these selected items from 95% to 90%. By prioritizing local procurement and considering diversity, gender balance and ethical practices, UNHCR is supporting local economies and social inclusion. UNHCR will also cover the full life cycle of its goods by introducing new sustainability provisions into inventory, transportation and waste management. The Office will advocate for reducing the humanitarian supply chain's carbon emissions by 30% by 2030.
To ensure recipients' awareness and promote correct waste management, relief items will carry a green label with recycling information and a QR code linking to the help.unhcr.org page, which provides digital access to protection tools and product information.
The Refugee Environmental Protection Fund (REP) will invest in reforestation and clean cooking for refugees and host communities in Rwanda, South Sudan and Uganda, registering them as verified carbon credits in 2024.
In Bangladesh's refugee camps, UNCHR and partners provide nearly 100% of refugees with clean cooking fuel by distributing LPG. In Uganda, 29% of refugee households have access to clean fuel such as LPG, and more sustainable solutions, such as briquettes. Several countries, including Bangladesh, Kenya, Pakistan, South Sudan, the United Republic of Tanzania, Sudan and Uganda, also provide awareness-raising campaigns to refugees on energy-saving practices to further increase the adoption of energy-efficient stoves and alternative cooking fuels.
Piloting sustainable procurement
In 2022, UNHCR launched a pilot procurement of sustainable core relief items to replenish stocks in Afghanistan, Pakistan and Uzbekistan. The project included orders of blankets made with 100% recycled plastic bottles, switching to natural colour boxes, and bales made of recycled material, banning single-use plastic packaging, and optimized packaging for blankets and sleeping mats. These efforts lowered CO2 emissions by an estimated 1.777 metric tons, a saving which is equivalent to some 660,000 litres of diesel. The Office is gradually replenishing its worldwide stocks with greener items.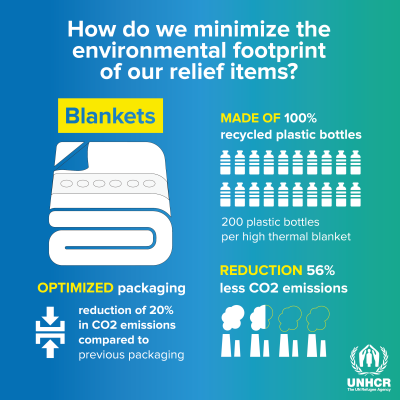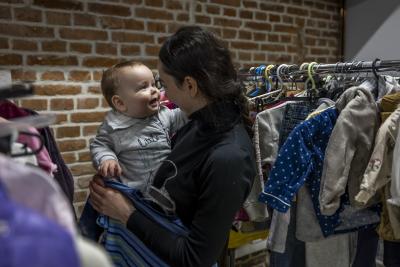 Swedish company Essity restores dignity for people who need it the most
Essity continues to be a significant partner to Sweden for UNHCR. In 2024, UNHCR is looking to strengthen its partnership with Essity in the areas of sanitation and hygiene, with a particular focus on health and hygiene for women and girls. In 2022 and 2023, Essity donated a total of $1.4 million to UNHCR. This included both cash donations and in-kind donations of various sanitary products, including over 300,000 diapers and 500,000 sanitary pads to support people affected by the earthquake in Turkey and Syria and 1.3 million diapers to people displaced by the war in Ukraine.