View All
Global needs in 2024
Most refugees want to go home. This is consistently the result of surveys of their intentions. However, very few are able to do so – only 1% in 2022. Political instability, insecurity, climate impacts and a lack of services and livelihoods all prevent sustainable returns and reintegration. Nevertheless, progress is possible: in Côte d'Ivoire, 98% of refugees previously registered across West Africa have returned.
View All
Global needs for Voluntary repatriation and sustainable reintegration in 2024
$292 million
+11% vs 2023 current budget
View All
A sample of core outcome indicators
14.1 Proportion of returnees with legally recognized identity documents or credentials
| | | | | |
| --- | --- | --- | --- | --- |
| Country | Population Type | Baseline | Target 2023 | Target 2023 |
| Afghanistan | Returnees | 47% | 50% | 60% |
| Burundi | Returnees | 68% | 75% | 80% |
| Somalia | Returnees | 58% | 65% | 70% |
View All
How UNHCR will make a difference in 2024
In 2024, UNHCR will invest in voluntary repatriation and reintegration activities in 79 countries. To remove obstacles to returns, UNHCR draws on its network of partners, including UN agencies and multilateral financial institutions, to form coalitions that can bring a wide spectrum of support to specific geographic areas. It will work with the "support platforms" under the aegis of the Intergovernmental Authority on Development (IGAD), the Solutions Strategy for Afghan Refugees (SSAR), the Comprehensive Regional Protection and Solutions Framework (MIRPS) in Latin America and Mexico, and a fourth platform planned for the Central African Republic situation.
The 2023 Global Refugee Forum is also expected to generate pledges supporting progress on peace building, conflict prevention and housing, land and property rights in countries of origin, which will add to the potential for returns. UNHCR will also seek to ensure that refugees have access to up to date local information on their country and area of origin, allowing them to make informed decisions about returning.
Where conditions are conducive, UNHCR will facilitate returns. In Burundi, UNHCR has facilitated voluntary repatriation since 2017, primarily from the United Republic of Tanzania. Since some refugees are reluctant, wary of limited access to social services and livelihoods, UNHCR is working with development actors to address such issues and advocate for refugees' integration in national development plans.
148,200 South Sudanese refugees returned in adverse circumstances in the first six months of 2023, mostly fleeing Sudan. UNHCR does not facilitate these returns, but will keep supporting returnees via "Pockets of hope", a solutions oriented, area-based and status-blind initiative. UNHCR also supports access to documentation, a challenge due to the complex political context, limited government capacity to issue civil documents, and the cost and administrative requirements to request nationality certificates, which function as national identity cards.
Regional needs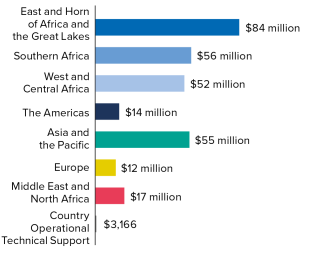 Top ten operational budgets for Voluntary repatriation and sustainable reintegration (USD millions) 
View All
Few Afghan refugees have returned, but almost 6,000 did so in the first half of 2023, mostly due to the cost of living and lack of employment opportunities in host countries, the improved security situation in Afghanistan and a desire to be with their families. In 2024, to address returnees' immediate needs and mitigate protection risks, UNHCR will continue to issue cash grants and provide multi-sectoral assistance at encashment centres. Information collected through return monitoring will inform UNHCR's programmes and interventions in areas of displacement and returns.
In the Syrian Arab Republic, UNHCR is in discussions with the Government to remove obstacles to return, and will continue providing returning refugees and other vulnerable people with humanitarian assistance and other services through a network of community centres. UNHCR is also investing in birth registration in asylum countries, which has helped to significantly increase the number of Syrian children with legal identity documents. The number of Syrians born in refugee-hosting countries of the region who had no birth registration documents has fallen to 5% in recent years, compared to 35% in 2012. The 2023 survey of "Syrian refugees' perceptions & intentions on return to Syria" showed that 92% possessed at least one valid document showing Syrian origin.
UNHCR will implement the recommendations of a recent evaluation of its support for voluntary repatriation and reintegration, aiming to improve context analysis, monitoring of returnee needs, needs-based planning, refugee participation, advocacy strategies, multi-stakeholder engagement, regional and national agreements, and knowledge management.
Without the required funding, UNHCR will be less able to provide the return packages that support returnees' initial reintegration needs, to provide up-to-date and localized information to refugees, to conduct intentions surveys and protection monitoring in areas of return, and to inform actors, including development partners, of reintegration needs.