View All
Global needs in 2024

Millions of people rely on UNHCR's help with sustainable housing and the management of the settlement where they live. Millions live in climate-vulnerable "hotspots" where investment in resources and infrastructure is needed to adapt to an increasingly inhospitable environment. In 2022, most UNHCR country operations reporting data on housing said that the majority of refugees, asylum-seekers and returnees in those countries did not have habitable and affordable housing. In Burundi for example, only 7% of refugees were reported to be living in habitable, affordable housing. Underfunding meant that not all UNHCR's planned activities could go ahead. The Operation faced serious difficulties as ageing shelters have to be rehabilitated every year, and restrictions on freedom of movement were an obstacle for refugees wanting to obtain local construction materials for themselves. 
Many displacement situations have lasted so long that the temporary infrastructure has deteriorated. Thus investment is needed in many of the protracted situations in the East and Horn of Africa and the Great Lakes region, and countries affected by the Syria Situation. Refugees and asylum-seekers often cannot exercise their rights to housing, land and property, and their temporary and transitional shelters often suffer from harsh weather conditions, requiring replacement or frequent maintenance. Decarbonizing the shelter response is also an imperative.
View All
A sample of core outcome indicators 
9.1 Proportion of people living in habitable and affordable housing.
| | | | | |
| --- | --- | --- | --- | --- |
| Country | Population Type | Baseline | Target 2023 | Target 2024 |
| Afghanistan | IDPs | 5% | 9% | 10% |
| Afghanistan | Returnees | 72% | 72% | 80% |
| Bangladesh | Refugees and Asylum-seekers | 8% | 13% | 18% |
| Burkina Faso | Refugees and Asylum-seekers | 18% | 60% | 75% |
| Chad | Refugees and Asylum-seekers | 71% | 80% | 85% |
| Ukraine | IDPs | 83% | 47% | 47% |
View All
How UNHCR will make a difference
In 2024, UNHCR plans to invest in sustainable housing and settlements in 38 countries.
When a new displacement emergency erupts, UNHCR aims to conduct a shelter and settlement assessment within three days and provide emergency shelter assistance to newly arrived refugees and asylum-seekers. UNHCR will work with academic and private entities worldwide to expand the shelter solutions available, with a specific focus on the use of local materials and designs.
UNHCR also plans to start procurement in 2024 of a new tarpaulin with less environmental impact, following a research and development project in partnership with ICRC and IFRC. It will be lighter, stronger, more resistant to damage, and will include 15% recycled polyethylene. UNHCR will seek to invest in a programme to improve green areas in and around refugee camps, and land restoration will be a priority in 2024.
UNHCR promotes planned settlements only as a last resort. However, formal camps and camp-like settlements remain a reality, often developing gradually from an emergency camp into long-term settlements. UNHCR will keep advocating for humanitarian settlement planning so that camps and camp-like settlements are designed with long-term development in mind, as in Bangladesh's Settlement Development Plan (SDP), where UNHCR is leading a long-term strategy involving humanitarian actors, donors and the Government of Bangladesh.
Regional needs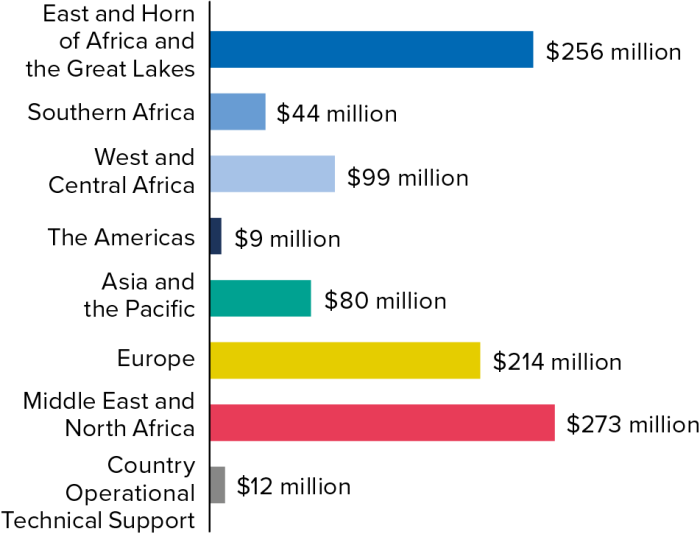 Top ten operational budgets for Sustainable housing and settlements (USD millions)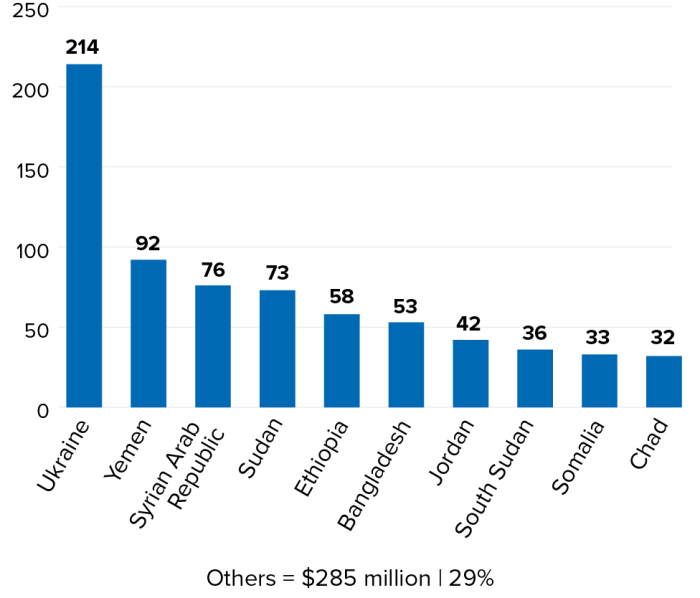 View All
UNHCR is mapping the climate vulnerability of 30 refugee and IDP settlements, part of its "Operational strategy for climate resilience and environmental sustainability 2022-2025". Funding will be sought in 2024 to make them climate resilient.
The UNHCR Shelter Sustainability Assessment Tool developed by the Geneva Technical Hub assesses the environmental impacts, technical performance, habitability and affordability of shelter designs, thereby supporting decisions on the design and procurement of shelters provided by UNHCR and its partners. Through the Geneva Technical Hub's academic support, UNHCR will also roll out a tool to map flood risks in settlements.
UNHCR aims to increase refugees' access to sustainable energy sources while remaining sensitive to the host community's needs. UNHCR will reduce carbon emissions by switching diesel-powered water infrastructure, health centres and schools to renewable energy, particularly solar hybrid systems. Decarbonization also means maintaining existing systems to avoid breakdowns and energy inefficiency that could add to CO₂ emissions. In Ethiopia, Kenya and Uganda, UNHCR's multi-year collaboration with the German Federal Ministry for Economic Cooperation and Development, "Energy Solutions for Displacement Settings", will explore the potential of the operation and maintenance service model for solar photovoltaic systems, and recycling and reuse of distributed solar to reduce electronic waste.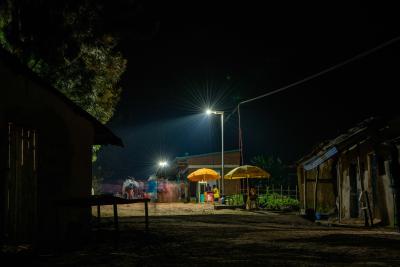 Lighting up lives in refugee settlements
The Signify Foundation has been a partner of UNHCR since 2020, bringing solar-powered lighting to refugee camps and shelters worldwide. Dedicated to making a real difference by bringing light where needed, the foundation donated solar lighting to UNHCR and other organizations during the Ukraine emergency and Pakistan floods. In 2023, Signify initiated a pilot project in Uganda to install solar streetlights in areas where sexual and gender-based violence are significant concerns. UNHCR and the Signify Foundation have been working with the local refugee communities to determine their safety needs and provide practical solutions for the people in these communities.