View All
Global needs in 2024
One route out of forced displacement is via a third country. This might be resettlement or a complementary form of legal entry that is open to people in need of international protection, such as humanitarian admission, family reunification and named sponsorship, or skill-based education and labour mobility pathways. Resettlement and these complementary pathways are vital for individual refugees and are a part of comprehensive protection and solutions strategies. They also constitute an important way to alleviate pressure on refugee-hosting countries, in line with the Global Compact on Refugees.
Resettlement offers a unique and meaningful chance for individuals and families to rebuild their lives. Over 2.4 million refugees will need resettlement in 2024, a 20% increase in the requirement in 2023, and 59 UNHCR operations have projected resettlement needs. UNHCR assesses refugees' needs and refers them for resettlement in close collaboration with the governments of resettlement and host countries, NGO and civil society actors, and the refugees themselves. Only a small number can be resettled, so UNHCR prioritizes those with urgent or emergency protection needs and those who have been in long-term displacement.
According to the global commitments under the 2030 Roadmap, in 2024, 220,000 refugees should be able to reach complementary pathways as safe and regulated opportunities to support themselves in a third country and potentially reach a sustainable and lasting solution to end their refugee status. This entails building systems through partnerships, with UNHCR coordinating and supervising protection.
View All
Global needs for Resettlement, complementary pathways and family reunification in 2024
$205 million
+2% vs 2023 current budget
View All
A sample of core outcome indicators 
15.1 Number of refugees submitted by UNHCR for resettlement
| | | | | |
| --- | --- | --- | --- | --- |
| Country | Population Type | Baseline | Target 2023 | Target 2024 |
| Bangladesh | Refugees and Asylum-seekers | 1,082 | 10,000 | 10,000 |
| Chad | Refugees and Asylum-seekers | 1,209 | 856 | 1,200 |
| Islamic Republic of Iran | Refugees and Asylum-seekers | 3,126 | 5,000 | 1,200 |
| Lebanon | Refugees and Asylum-seekers | 9,656 | 11,800 | 7,800 |
| Libya | Refugees and Asylum-seekers | 464 | 650 | 700 |
| Uganda | Refugees and Asylum-seekers | 3,790 | 3,500 | 4,500 |
View All
How UNHCR will make a difference
In 2024, UNHCR plans to invest in resettlement; building complementary pathways, and enhancing access to family reunification in 148 countries. UNHCR will press governments to reduce the gap between resettlement needs and the number of places available. UNHCR will coordinate resettlement globally to ensure the largest possible number of active resettlement countries and the timely and efficient processing of resettlement, which currently averages 971 days between submission and departure. UNHCR will focus on five priority situations: the Central Mediterranean situation and Syrian, Venezuelan, Afghan and Rohingya refugees.
UNHCR will refine its identification and processing methodologies and promote the strategic use of resettlement to complement wider solutions and resilience strategies. UNHCR will support community sponsorship, an important tool to increase reception and integration capacity and strengthen welcoming societies.
UNHCR will work closely with States and civil society actors – including in the Private Sector - to expand education, labour and humanitarian pathways, improve access to family reunification and implement 2023 Global Refugee Forum pledges supporting refugees' access to legal pathways. UNHCR will broaden partnerships and work to lift barriers to the independent and safe movement of refugees by advocating for unhindered access to refugee family reunification, humanitarian admissions and issuance of individual travel documents.
UNHCR will remain the protection lead, bringing together different actors to ensure that legal pathways become a real attainable option. Expanding numbers and inclusion of refugees in the global migration frameworks will remain UNHCR's priority and main role.
Regional needs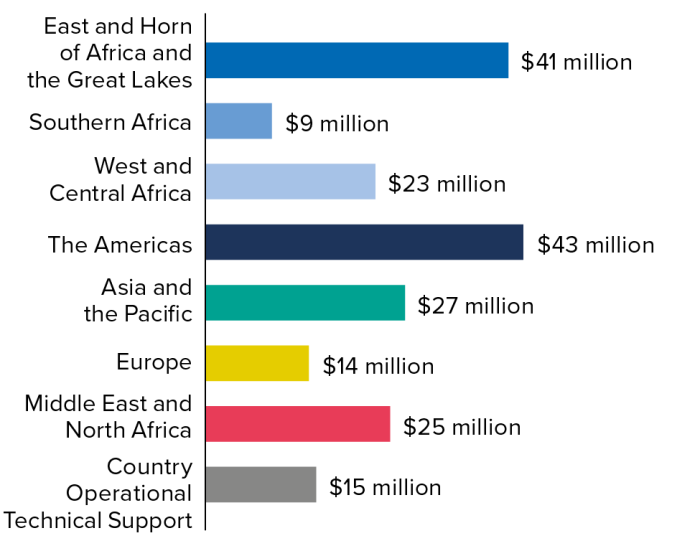 Top ten operational budgets for Resettlement, complementary pathways and family reunification (USD millions)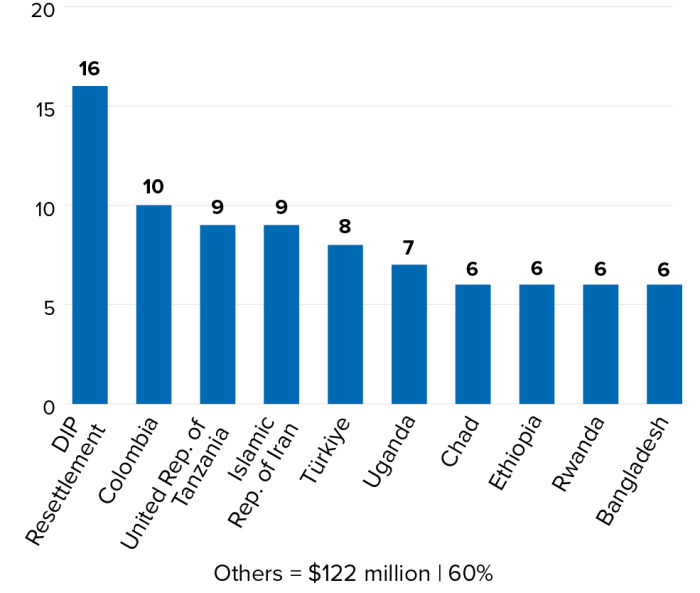 View All
UNHCR will ensure a protection-sensitive approach to developing pathways by contributing to the work of the Global Task Forces on Refugee Labour Mobility and Third Country Education Pathways and enhanced access to family reunification through leading on the Family Reunification Network. This work aims to level the playing field so that qualified refugees can compete for opportunities. UNHCR's opportunities platform, which helps refugees find accredited higher education and professional development programmes, will expand to include labour opportunities.
UNHCR will strengthen its data collection to track the progress of complementary pathways and family reunification, improving the joint OECD-UNHCR data collection process and UNHCR's monitoring and evaluation frameworks. At the field level, UNHCR will continue identifying and building the capacity of partners, including refugee-led organizations, to support refugees' readiness and access to complementary pathways. In many countries, UNHCR will continue initiatives building towards a systematic framework with protection safeguards, including Algeria, Bangladesh, Cameroon, Chad, Egypt, Ethiopia, India, Indonesia, Jordan, Kenya, Lebanon, the Philippines, Tunisia, Uganda and Zambia.