View All
Global needs in 2024

Recent years have seen record forced displacement on an unprecedented scale. Although the vast majority of displaced people want to go home, very few are able to do so. Many countries that host refugees are willing to find local solutions but they need help to bridge financial, technical and policy gaps.
States are showing solidarity and generously supporting integration efforts, but in many instances UNHCR operations remain significantly underfunded, with an acute shortfall in financing for durable solutions – even where shifting local conditions have given rise to improved prospects for local integration.
View All
Global needs for Local integration and other local solutions in 2024
$437 million
+8% vs 2023 current budget
View All
A sample of core outcome indicators
16.1 Proportion of people with secure tenure rights to housing and/or land
| | | | | |
| --- | --- | --- | --- | --- |
| Country | Population Type | Baseline | Target 2023 | Target 2024 |
| Iraq | Refugees and Asylum-seekers | 36% | 36% | 36% |
| Nigeria | Refugees and Asylum-seekers | 0% | 40% | 45% |
| South Sudan | IDPs | 10% | 25% | 25% |
| South Sudan | Refugees and Asylum-seekers | 66% | 70% | 70% |
View All
How UNHCR will make a difference
In 2024, UNHCR will invest in local integration and other local solutions in 141 countries. UNHCR will seek to inspire and mobilize a willing and capable coalition of partners both locally and globally, through the GRF and the high-level political platform that it presents.
With millions of vulnerable lives hanging in the balance, UNHCR is determined to maintain and, where possible, consolidate its local integration efforts, broadly, by strengthening collaboration with development actors, the private sector and other UN system partners – including on scalable initiatives that create pathways or directly contribute to local integration where multilateral financial institutions are helping to meet the housing needs of refugees and their host communities. Further investing in legal research and in the practical feasibility of the options of permanent legal residence and the acquisition of nationality across regions, including in the context of existing regional communities, will be explored.
To implement the Global Compact on Refugees and promote related existing initiatives as presented at the 74th Executive Committee meeting, UNHCR will continue to promote sustainable solutions for forcibly displaced people, including through local integration and other local solutions for refugees that build on and leverage:
The Regional Comprehensive Protection and Solutions Frameworks (MIRPS, by its Spanish acronym) and its support platform, the Quito Process, and the Cities of Solidarity initiative in the Americas. UNHCR also aims to continue its support to forced displacement in Colombia and El Salvador, with an eventual outlook towards restitution and the overall restoration of secure housing, land and property rights for those impacted by displacement and armed conflict, and to facilitate regularization processes in informal settlements, relocations, and the constitution of indigenous reservations.
The Ministerial Declaration of Support adopted and signed by the Intergovernmental Authority on Development (IGAD) and the East African Community (EAC) and the IGAD Support Platform Roadmap for the 2023 Global Refugee Forum that were launched in Djibouti.
Ongoing support by UNHCR in West and Central Africa, such as on the submission of naturalization applications by Mauritanian refugees in Senegal and the issuance of passports, birth certificates and residence permits to former Ivorian refugees in Ghana. The Yaoundé Declaration on solutions to the situation in the Central African Republic, and collaboration with regional institutions such as ECCAS to strengthen UNHCR's advocacy efforts, will continue to play an important role.
Regional needs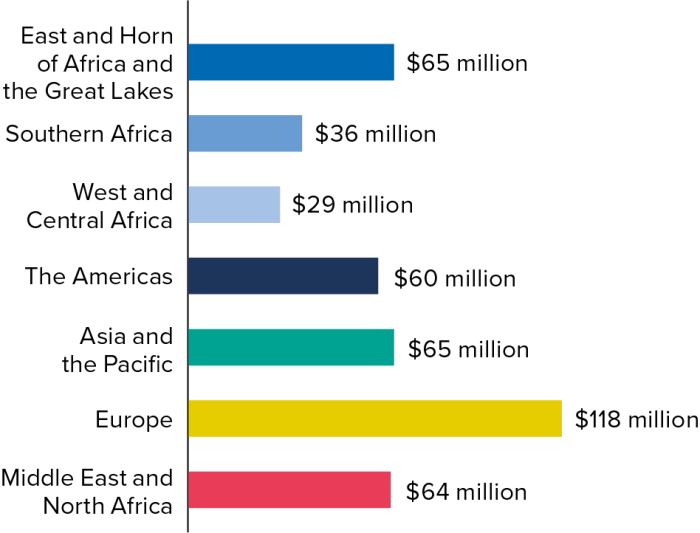 Top ten operational budgets for Local integration and other local solutions (USD millions)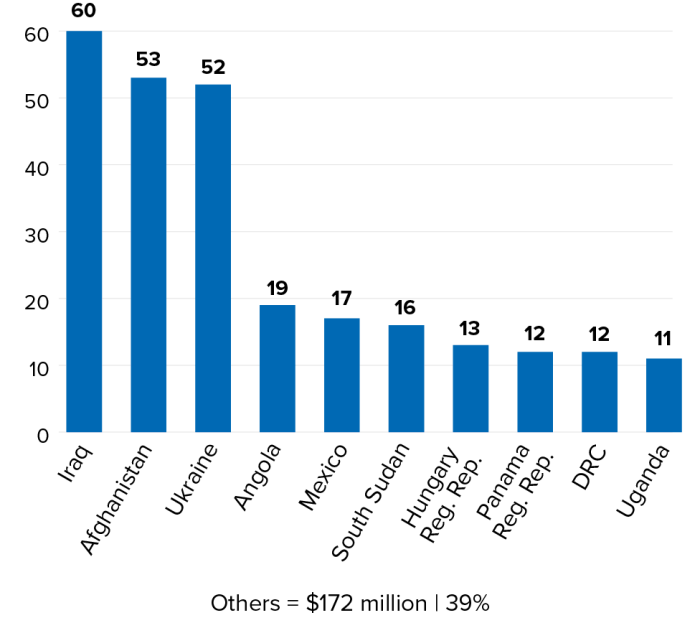 View All
In Asia and the Pacific, efforts to find solutions for Sri Lankan refugees facing protracted situations in India will continue, including by identifying pathways to local integration for those refugees who wish to integrate.
In the Middle East and North Africa, scaling up advocacy with local and national authorities to create conditions for addressing refugee needs will be considered – for example in Iraq where UNHCR is supporting the inclusion of enhanced housing, land and property rights in the national Refugee Law.