View All
Global needs in 2024

The situation concerning the education of refugee children is increasingly dire. The school-aged refugee population surged from 10 million to 14.8 million by the end of 2022, and 51% are out of school.
UNHCR's top priority is forcibly displaced and stateless people's equitable and sustainable inclusion in national education systems. This is laid out in the Refugee Education 2030 strategy and aligned with the principles of the Global Compact on Refugees. Some progress has been made, for instance in the Kurdistan Region of Iraq, where the Refugee Education Integration Policy resulted in a 20% increase Syrian refugee children's enrolment in grades one to four. Nevertheless, excluding the Ukraine situation, 83% of refugees are hosted by low- and middleincome countries where education systems often face their own constraints, complicating efforts towards refugee inclusion. (Monitoring inclusion is also difficult since official enrolment figures often do not show the number of refugees.)
UNHCR's comprehensive education strategy aims for better educational access and quality, and transformative partnerships. If national systems can sustainably include more refugees, UNHCR can envisage a gradual reduction in its oversight role, and the reallocation of resources. However, in 2022, UNHCR received only 49% of the funding required for educational initiatives. A similar shortfall in 2024 would constrain vital programmes, exacerbating the already high out-of-school rates among refugee children and undermining the long-term inclusion strategy, with knock-on impacts related to protection, health, peace and security, and social cohesion.
The importance of education for developing human potential cannot be overstated. A lack of adequate investment risks perpetuating cycles of disenfranchisement, leaving refugees ill-equipped for meaningful employment and active participation in their communities.
View All
Global needs for Education in 2024
$514 million
+8% vs 2023 current budget
View All
A sample of core outcome indicators
11.1 Proportion of young people enrolled in tertiary and higher education
| | | | | |
| --- | --- | --- | --- | --- |
| Country | Population type | Baseline | Target 2023 | Target 2024 |
| Democratic Republic of the Congo | Refugees and Asylum-seekers | 0% | 2% | 3% |
| Ethiopia | Refugees and Asylum-seekers | 4% | 5% | 6% |
| Kenya | Refugees and Asylum-seekers | 3% | 6% | 6% |
| Pakistan | Refugees and Asylum-seekers | 5% | 5% | 5% |
| Sudan | Refugees and Asylum-seekers | 4% | 5% | 10% |
View All
How UNHCR will make a difference
In 2024, UNHCR will invest in education in 82 countries. UNHCR will strengthen national systems to sustainably include larger numbers of refugees, boost refugee teachers' professional development, deepen youth engagement through strategic learning-to-earning interventions and partnerships, and address the impacts of climate on refugee education. The Global Refugee Forum (GRF) at the end of 2023 represents an opportunity to revitalize inclusion efforts by increasing international cooperation and securing multi-year financing to realize inclusion pledges by host countries.
The UNHCR-Educate A Child programme has enrolled 1.6 million out-of-school refugee children in primary education since its launch in 2012. Set for renewal in 2024, it plans to enroll 400,000 more children in the next four years. A new initiative, Primary Impact, will benefit another 475,000 children over the same period. These programmes will enhance primary education access and quality for refugee children.
Secondary education requires urgent investment. Although global secondary enrolment averages 77%, it drops to just 41% for refugees, with significant regional disparities. To address this gap, a UNHCR pilot programme in Ethiopia, Iraq and Pakistan will focus on quality secondary education for refugees, providing insights that will shape a broader approach supporting 300,000 secondary school students.
For higher education, UNHCR and its partners are committed to achieving enrolment of 15% of refugee youth by 2030. The global average has risen to 7%, from 1% in 2019, but more work is needed to meet the target of 500,000+ enrolled by 2030. Inclusive policies and practices, such as Burundi's commitment to equalizing fees for national and refugee students, are crucial. Initiatives such as the Peer to Peer Solutions Advisor Network are essential in filling gaps and helping refugees navigate admission to higher education.
UNHCR will reach 75,000 students with connected learning initiatives across 25 countries in 2024, including Instant Network Schools, funded by the Vodafone Foundation, and a partnership for connected education with the ProFuturo Foundation. Alongside these efforts, UNHCR is pioneering technological innovations, including a collaboration with Learning Equality to automate curriculum alignment through machine learning algorithms.
UNHCR will improve its data collection to enhance evidence-based strategies for refugee education. The UNHCR education report covers more than 70 countries, and UNHCR has joined forces with partners like Porticus Foundation and the UNHCR World Bank Joint Data Center on research to measure learning outcomes among displaced populations.
Regional needs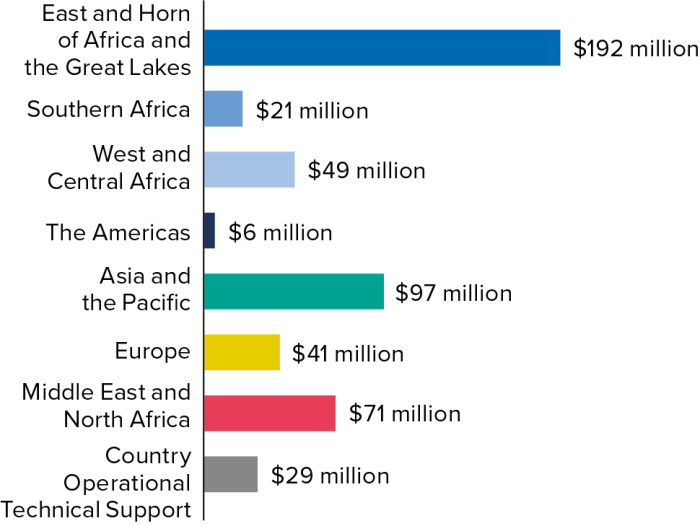 Top ten operational budgets for Education (USD millions)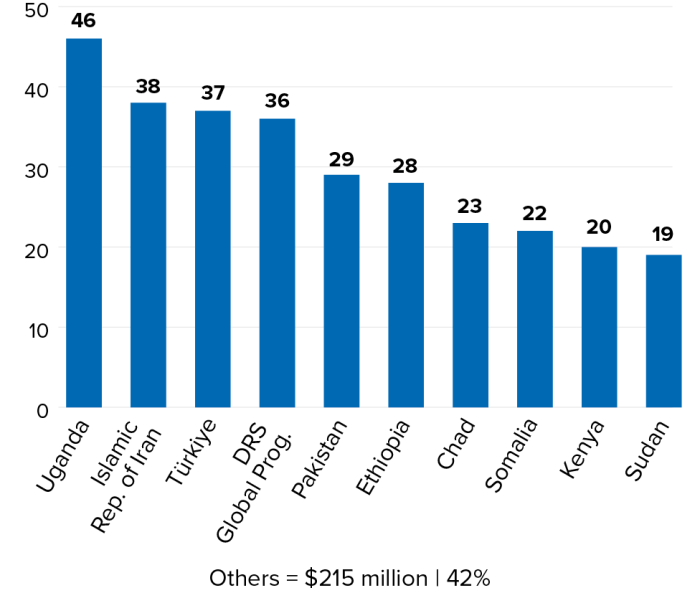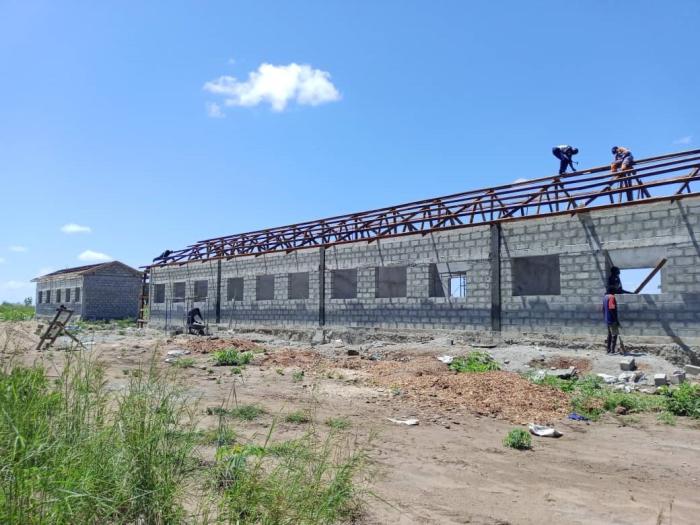 Canaan Group helps to build school facilities for refugees in South Sudan
The Canaan Group is demonstrating its unwavering commitment to education by expanding its support beyond its yearly financial donations to UNHCR. In August 2023, it embarked on a construction project at the Gorom refugee settlement in South Sudan. This will include eight classroom blocks, an office block, a kitchen, staff toilets and six toilet blocks. Through these efforts, Canaan Group is helping to improve the learning and working environment for refugees in South Sudan.