View All
Global needs in 2024
At the end of 2022, 43.3 million children remained forcibly displaced from their homes. In 2024 this number is expected to increase as the global number of forcibly displaced people continues to grow.
Forcibly displaced and stateless children face a range of risks. Violence and exploitation occur in the family, in communities and schools, in institutions and online, and can be physical, emotional or sexual. Children risk family separation, neglect, exclusion and discrimination, trafficking, child labour, child marriage, child recruitment and immigration detention. Children and caregivers commonly experience psychosocial distress.
Funding gaps in child protection have been on the rise with 37% in 2020, 43% in 2021 and 49% in 2022. This trend is expected to continue this year. Persistent underfunding remains a challenge, resulting in, for example, limited child protection services provided to increasing number of unaccompanied and separated children in Thailand and Italy, and reduced casework capacity in Colombia where only 30% of the case workers that were required could be hired. Child protection services were insufficient in Ethiopia, Uganda and Lebanon despite being the top three largest operations with child protection funding. There is an urgent need to reinforce funding for child protection across operations.
View All
Global needs for Child protection in 2024
$252 million
+3% vs 2023 current budget
View All
A sample of core outcome indicators
5.1. Proportion of children at heightened risk who are supported by best interest procedures
| | | | | |
| --- | --- | --- | --- | --- |
| Country | Population Type | Baseline | Target 2023 | Target 2024 |
| Bangladesh | Refugees and Asylum-seekers | 100% | 100% | 100% |
| Ethiopia | Refugees and Asylum-seekers | 64% | 73% | 80% |
| Lebanon | Refugees and Asylum-seekers | 88% | 88% | 89% |
| Uganda | Refugees and Asylum-seekers | 8% | 11% | 11% |
| Yemen | IDPs | 68% | 70% | 75% |
View All
How UNHCR will make a difference
In 2024, UNHCR will invest in improving child protection in 101 countries. UNHCR and partners will focus on six core programmatic actions, in accordance with the "Minimum standards for child protection in humanitarian action".
UNHCR will work with national authorities, local NGOs and other partners, particularly development partners, to strengthen national child protection systems and services so that they can respond to the needs of forcibly displaced and stateless children. Important steps include the removal of legal, policy or procedural barriers, and building national systems' capacity to respond to the scale and specific needs of displaced and stateless children. In Türkiye, UNHCR works closely with and supports national authorities to include forcibly displaced children in their national systems and services. In 2022, UNHCR supported 87 child institutions under the Ministry of Family and Social Services in 36 provinces.
UNHCR will work with and support community actors' efforts to prevent and address child protection risks and integrate child protection within its community-based protection programming. This includes group activities for children, programmes to support families' ability to care for and protect children, and community-level initiatives to protect children, including social and behavioural change communication initiatives. UNHCR will provide supplementary child protection services to children at risk where such services cannot be provided by national authorities or other partners. This includes identifying children at risk and referring them to multisectoral services, managing child protection cases, providing alternative care, reuniting separated and unaccompanied children with their families, and responding to gender-based violence against children. In Bangladesh, the Best Interests Procedure is in place in all 33 camps, informing recommendations and decision-making for children at risk, including referrals to multisectoral services.
UNHCR will work with national authorities and with its partners to ensure that a broad range of child-friendly protection and solutions interventions are available, including solutions that are in the child's best interests, and alternatives to detention for children and their families. UNHCR will also work on preventing and mitigating harm to children while integrating the protection and well-being of children into all sectoral responses throughout all phases of programming. In Jordan in 2022, a total of 2,155 individual counselling sessions were provided and 10,972 children at risk were referred to other multisectoral prevention and response by UNHCR and partners. UNHCR also provided training on child protection and child rights to 339 UNHCR, partners and government staff from different sectors.
UNHCR will ensure that children effectively participate in UNHCR's protection, assistance and solutions interventions at all stages of the management cycle, that UNHCR's communication with children is child-friendly, and that children have access to child-friendly accountability mechanisms to ensure their voices are heard.
Regional needs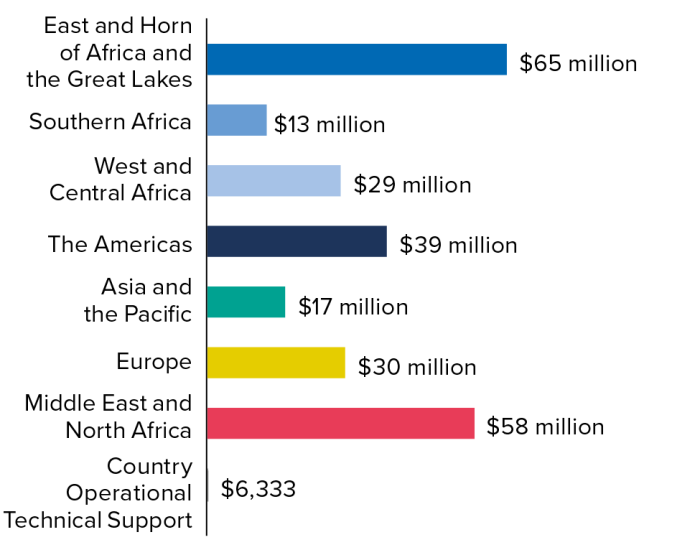 Top ten operational budgets for Child protection (USD millions)