View All
Global needs in 2024

Access to territory, registration and documentation are fundamental first steps for those in need of international protection. Yet, border and migration management practices are, in some cases, becoming more restrictive. Some States aim to transfer protection responsibilities to other States, making it harder for people on the move to seek safety. Reported cases of arbitrary expulsion, violent pushbacks at sea or redirections violate the internationally agreed principle of non-refoulement and led to death and suffering. In 2022, UNHCR estimates that more than 105,000 people were confirmed, likely or possibly refouled.
Once asylum-seekers and refugees cross borders, registration and issuance of documentation is crucial for access to protection, assistance and services. Forcibly displaced and stateless people often lack civil registration and identity documentation, making it difficult to enroll children in school, take up formal employment or rent or buy property. Undocumented refugees are also at higher risk of detention or deportation. Lack of civil registration and identity documents may also increase risk of statelessness, including for forcibly displaced people. In 2024, registration will be scaled up in new emergencies and UNHCR's progres registration system will maintain active records for over 15 million people in 137 countries.
View All
Global needs for Access to territory, registration, and documentation in 2024
$717 million
-4% vs 2023 current budget
View All
A sample of core outcome indicators 
1.1 Proportion of refugees and asylum-seekers registered on an individual basis
| | | | | |
| --- | --- | --- | --- | --- |
| Country | Population Type | Baseline | Target 2023 | Target 2024 |
| Democratic Republic of the Congo | Refugees and Asylum-seekers | 74% | 78% | 80% |
| Iraq | Refugees and Asylum-seekers | 100% | 100% | 100% |
| Niger | Refugees and Asylum-seekers | 78% | 88% | 100% |
| Türkiye | Refugees and Asylum-seekers | 100% | 100% | 100% |
| Uganda | Refugees and Asylum-seekers | 94% | 100% | 100% |
View All
How UNHCR will make a difference
In 2024, UNHCR aims to advance access to territory, registration, and documentation in at least 166 countries. UNHCR will support States to implement protection-sensitive border management and strengthen their ability to meet standards of international protection and ensure access to territory, registration and documentation is in line with international refugee law. UNHCR will continue to intervene in instances of refoulement.
UNHCR will register forcibly displaced people, including IDPs in some contexts, in 137 countries. Registration and documentation will facilitate cash assistance, where required, and other basic needs.
In Iraq, for example, registration includes the issuance of family and individual certificates, which facilitates the issuance of legal documents by the Iraqi authorities. By the end of September 2023, 298,000 refugees and asylum-seekers were registered with UNHCR in Iraq, where UNHCR registration is needed to obtain a Humanitarian Residency Permit. This grants asylum-seekers and refugees access to public services and rights, including freedom of movement, participation in informal livelihoods, medical services and others. For those whose application for humanitarian residency is rejected by the authorities, UNHCR documentation serves as a protection for non-refoulement, since it is legally recognized, and UNHCR and partners can use it as grounds to advocate for release from detention, especially when detention is based on lack of legal documentation to stay in Iraq.
Regional needs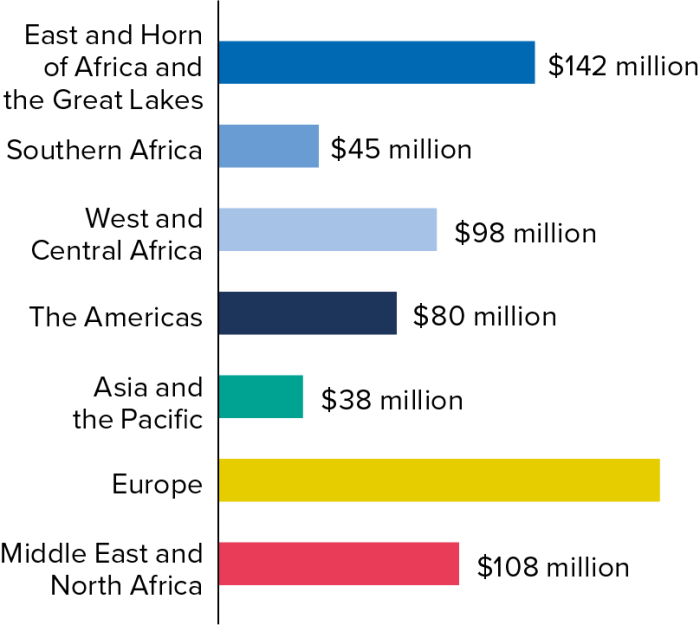 Top ten operational budgets for Access to territory, registration and documentation (USD millions)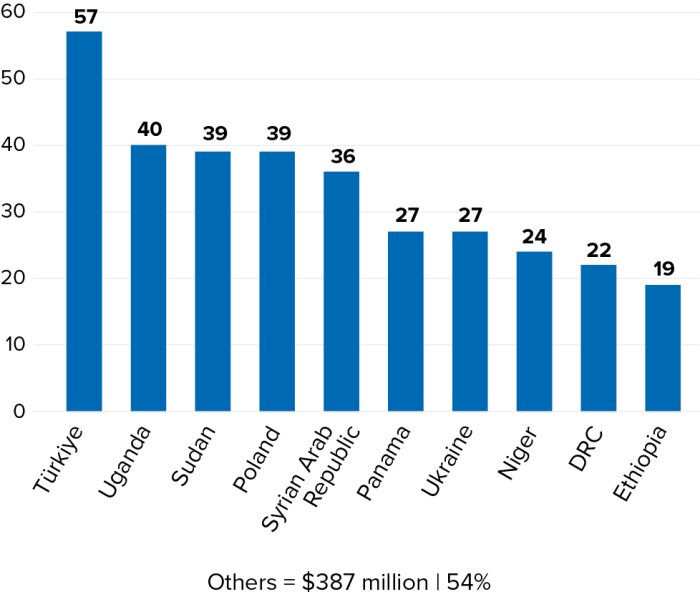 View All
In Uganda, refugees and asylum-seekers can reside just about anywhere in the country. UNHCR supports the Government by biometrically registering and documenting refugees and asylum seekers. But some refugees have to travel to reach registration centres, which are limited in number, so UNHCR will work with the authorities to increase the number of sites and registration staff. It will also collaborate with the Bank of Uganda to establish procedures for identity checks in branches of commercial banks so that refugees can use their services. Similarly, UNHCR is collaborating with the Uganda Communications Commission to open up refugees' access to mobile and telecommunications services. UNHCR will continue improving its registration tools and will enable secure and rights-compliant data exchange functionalities with governments and partners, facilitating cash assistance and people's access to their own data. A major milestone will be the development of UNHCR's "Digital Gateway", building on the success of refugee self-enrolment platforms in the Americas ("Movilidad Segura") and Egypt in the context of the Sudan emergency. Part of UNHCR's Digital Transformation Strategy with a strong component of accountability to affected people (AAP), it will provide refugees with secure and personalized access to essential information, communication channels, and UNHCR services.
In order to support the implementation of protection-sensitive entry systems in the context of mixed movement, work is underway on developing a toolkit with IOM which will compile promising practices in this, and other, areas. This toolkit will reinforce collaboration with key partners via the new IOM/ UNHCR "Framework of engagement".
UNHCR will train staff through the specialized Emergency Registration Learning Programme and place them on the Emergency Response Team roster so that they are on standby to scale up registration activities in emergencies across the globe with 72 hours' notice.