View All
The global climate crisis is amplifying the drivers of forced displacement and increasing the protection and humanitarian needs of displaced and stateless people. Food and water are becoming scarcer, with droughts and floods becoming more frequent. Many of the people UNHCR serves are excluded from public services or living on the margins of society, vulnerable to climate events and in urgent need of investment to reduce climate risk and build their resilience. 
Over 93% of the climate budget is for activities that contribute to climate resilience and/or environmental sustainability in UNHCR's operations. The majority of the funding required relates to the need for climate-resilient transitional shelters and access to renewable, clean, and sustainable energy sources, including for clean cooking. The remainder of the budget largely supports innovative finance projects, such as the Green Financing Facility, which aims to green UNHCR's operations in the field, and the Refugee Environmental Protection (REP) Fund.
View All
Global needs for climate action in 2024
$1.074 billion
View All
Regional needs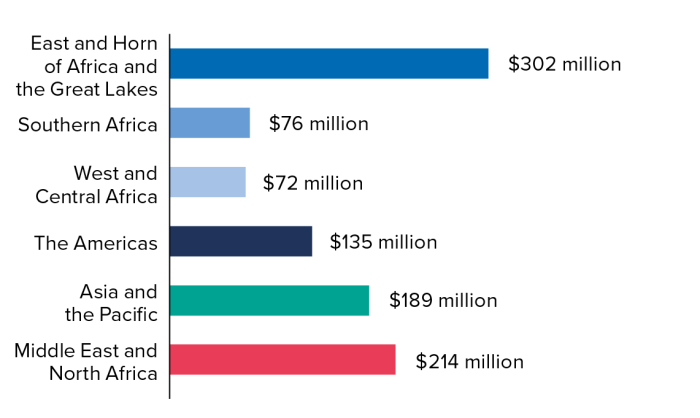 View All
How UNHCR will make a difference
UNHCR has set out its approach in its "Strategic Plan for Climate Action 2024-2030", which will be supported by multi-year climate action plans for each region. Its long-term vision is that by 2030, increasing numbers of forcibly displaced and stateless people fleeing from climate-fuelled crises, and/or living in climate vulnerable countries, are protected where needed, resilient to the impacts of climate change, and living self-sufficient lives. From 2024, UNHCR will work alongside partners to pursue four objectives to realize this vision.
---
First, it will work to ensure States provide international protection more systematically to people fleeing in the context of the impacts of climate change and from fear of related persecution, violence and human rights violations.
UNHCR will advocate for the protection of refugees and others displaced across borders in the context of climate change. To improve the systematic provision of international protection for those who need it, it will provide technical and legal guidance and ensure that States and legal partners understand the "Legal considerations regarding claims for international protection made in the context of the adverse effects of climate change and disasters".
UNHCR is conducting research with partners on the application of the refugee definition criteria of "events seriously disturbing public order" under the 1969 OAU Convention, for the protection of people displaced across borders in relation to climate change impacts and disasters in Africa1. UNHCR will continue to engage judges, legal practitioners as well as State, institutional, academic and civil society actors to build knowledge in this area for the effective protection of people displaced in these contexts.
Using advocacy and technical expertise, UNHCR will promote States' responsibility in situations of internal displacement, especially in countries significantly affected by climate change such as Burkina Faso, Colombia, Ethiopia, Mozambique and Nigeria. UNHCR will support legislative and policy reforms that strengthen IDP protection and solutions, including States' development and adoption of new instruments.
---
Second, UNHCR will work so that forcibly displaced, returned and stateless people and their hosts have improved access to protection-centred, environmentally sustainable resources and services.
UNHCR will significantly step-up efforts to provide sustainable water services, cleaner energy and other services in an increasingly climate-smart manner. Access to sustainable services, such as clean energy, enables displaced communities to gain greater control over their lives and futures and protect local ecosystems and habitats. UNHCR's Refugee Environmental Protection Fund will kickstart investment in reforestation and clean cooking in several climate-vulnerable refugee situations in 2024. UNHCR's Project Flow will solarize at least 20 water systems in 2024 and will conduct feasibility studies to enable solarization of more water systems, with an eventual target of 180 solarized systems.
View All
Spotlight example: In the Democratic Republic of the Congo, a UNHCR solarization project will supply environmentally friendly energy, water and sanitation, as well as providing livelihoods and powering UNHCR offices. UNHCR will construct shelters out of more sustainable materials and will plant trees, reducing deforestation, and will promote ecological farming and rural practices that are adapted to changing climate patterns.
View All
Third, UNHCR will work so that forcibly displaced, returned and stateless people and their hosts have improved economic and physical means to prepare, withstand and recover from climate shocks and stresses.
UNHCR's life-saving role in enhancing people's resilience to climate-related and other environmental risks includes investing in or advocating for durable and sustainable shelter, early warning and shock preparedness, economically viable livelihoods, social safety nets and other cash-based interventions. In Bangladesh, for example, UNHCR is empowering and training Rohingya refugees to mitigate the effects of monsoons, cyclones, floods and landslides by improving infrastructure, soil stabilization and watershed management to reduce risks of further displacement within the camps. UNHCR's new "Policy on emergency preparedness and response" clarifies the organization's engagement in natural hazard-induced crises and emphasizes the need for strategic decision-making and anticipatory action in the preparedness phase.
UNHCR's advocacy and technical advice supports the inclusion of displaced people in governments' climate policy frameworks and strategies, including National Adaptation Plans, Nationally Determined Contributions, and in coherence with disaster risk reduction strategies and wider frameworks for sustainable development.
To strengthen preparedness and early action in response to climate risks and displacement, UNHCR will be joining humanitarian and development partners in the Risk-informed Early Action Partnership.
View All
Spotlight example: In Malawi, UNHCR is partnering with the African Union's African Risk Capacity on a pilot Replica project providing for Dzaleka refugee camp. This aims to deliver rapid and predictable finance in response to climate events, promoting the refugee population's inclusion in climate action strategies.
View All
Fourthly, UNHCR is fast-tracking efforts to minimize its environmental footprint. UNHCR has set ambitious environmental goals, aiming to decrease its environmental impact and greenhouse gas emissions by a minimum of 45% from the 2018 levels by 2030.
In 2024, UNHCR will convert at least 15 large UNHCR office sites to renewable energy, using the Green Financing Facility, an innovative financing mechanism designed to maximize efficiency and sustainability of greening investments. UNHCR's Green Box initiative, monitoring offices' energy use, will expand to cover distribution warehouses, and three UNHCR offices will run a smart air conditioning pilot.
In line with its "Sustainable supply strategy", UNHCR is on track to achieve a 20% reduction, by the year 2025, of carbon emissions that stem from the procurement, delivery and utilization of goods. UNHCR will develop three additional environmentally friendly product specifications, thereby achieving the greening of the ten highest emitting relief items and other goods. Modifications are made by avoiding single-use plastic packaging, reducing virgin plastic materials and increasing the proportion of recycled material by up to 100%.
UNHCR is also introducing new sustainability provisions into inventory, transportation and waste management. A new transport management system will allow the Office to track, mitigate and reduce emissions related to international air, sea and road transportation of goods.
View All
The Global Compact on Refugees - Climate Spotlight: UNHCR has initiated a "Climate action multi-stakeholder pledge" that aims to increase financing and support for climate action for hosting countries and communities in climate-vulnerable, fragile and conflict-affected settings. Stakeholders are encouraged to take immediate and structural action across financial support, laws, policies, plans, programming and partnerships to ensure climate action is inclusive of refugees, other forcibly displaced and stateless people and their host communities.
View All
The cost of inaction
The climate crisis demands that UNHCR prepares and responds in a climate-smart manner. Business as usual cannot ensure the safety of millions who are increasingly faced with hazardous weather events, degraded environments and dwindling access to food and water.
Underfunding would leave millions without the capacity and infrastructure to prepare and withstand hazardous climate events, or the means to build or maintain livelihoods and preserve their natural environment. Investing in climate resilient options not only increases wellbeing, but also contributes to cost-efficient aid.
For example, not investing in climate resilient infrastructure and settlements will result in more damage to shelters that require repair, reduce access to essential lifesaving services during a disaster, and displace people once again.
Similarly, not providing environmentally sustainable resources and services, such as clean cooking options or solar-powered, sustainable water services, presents a variety of risks to human life and health including air pollution, conflict with local communities, and exposure of women and girls to the risk of gender-based violence when out collecting wood and water.
Failure to prepare is costly, and waiting for disaster to strike is not an option.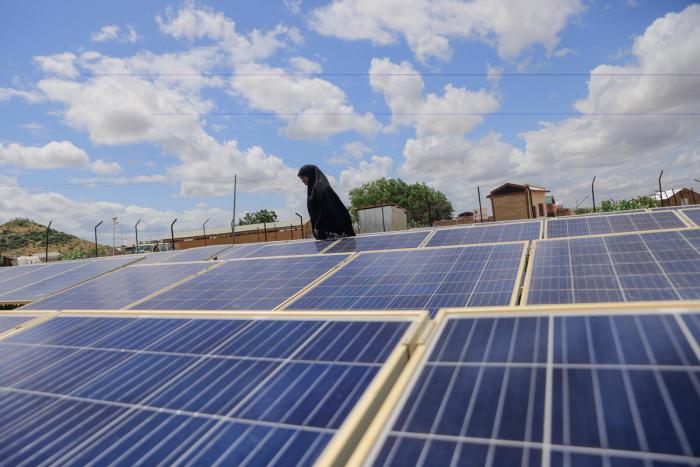 IKEA Foundation boosts UNHCR's green initiative
The IKEA Foundation, a strategic UNHCR partner since 2010, has been instrumental to the Organization's work on livelihoods, clean energy, and the economic inclusion of refugees and forcibly displaced people. In 2023, the IKEA Foundation committed $23.7 million to the Green Financing Facility, which aims to cut UNHCR's reliance on costly polluting diesel generators in hundreds of remote, off-grid locations, such as in Kenya and Uganda, part of UNHCR's plan to reduce its overall carbon emissions. The GFF uses financial guarantees to enable longer-term contracts, as well as a revolving fund to allow the same capital to solarize multiple sites over time.