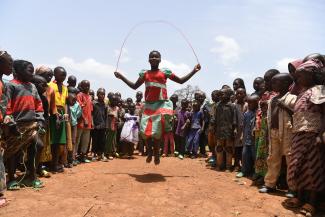 Far North Cameroon Emergency
2022 Population planning figures
Total people of concern: 100,000
Refugees and hosts in Chad: 60,000
IDPs and hosts in Cameroon: 40,000
2022 Situation overview
The end of 2021 has seen growing tensions between herders, farmers and fishermen in Cameroon's Far North region which culminated in an outbreak of violence which forced thousands to flee in December 2021. By February 2022, UNHCR had registered over 43,000 Cameroonians who sought refuge in neighboring Chad where registration continues, while around 36,000 people were still internally displaced within Cameroon. This conflict is a result of growing communal tensions around the Lake Chad Basin which has lost over 90 percent of its water surface. Grappling with immense challenges including endemic poverty, weak public services and the climate crisis, the under-served areas face increasing environmental degradation, further fueling food insecurity and competition over scarce resources.
Clashes broke out on 5 December 2021 in the village of Ouloumsa, Far North Cameroon over water resources that have become scarcer as a result of the climate crisis. Violence quickly spread to neighbouring villages before reaching Kousseri, the administrative centre and main commercial hub of Logone and Chari division, on 8 December 2021.  The fighting resulted in 44 people killed, 111 injured and 112 villages burned to ashes. The inter-communal clashes first occurred in August 2021 and displaced some 23,000 people across Cameroon and Chad. The repatriation of the 8,500 refugees who had remained in Chad was at an advanced stage of discussion between the two countries when the new clashes broke out.
With the root cause of the conflict still to be addressed, the situation remains volatile in the Far North Cameroon region and the conditions in the area are not conducive for the safe and dignified voluntary return of the populations displaced. UNHCR is scaling up its assistance to affected populations in Chad and Cameroon in coordination with national authorities and partners. UNHCR's operations in the two countries are focusing on ensuring access to basic services such as health, education, and water, sanitation and hygiene while addressing the most urgent protection needs. Considering the high numbers of women, children and persons with specific needs, child protection, gender-based violence prevention and response, and education will be central to UNHCR's protection activities. As most refugees and IDPs lost their identity documents, registration and documentation are also urgently needed. In line with its community-based approach, UNHCR will strengthen community structures and build capacities within refugee, IDP and host populations to empower them and include them in the programming and delivery of the humanitarian response. In both Cameroon and Chad, all these activities will be carried out both in planned sites and via the out-of-camp approach.
2022 Budget
Source: 2022 budget as approved by the Executive Committee of the High Commissioner's Programme at its 72nd session in October 2021.