One of the most important successes of 2022 was Côte d'Ivoire's transition from conflict to peace and stability, marked by the cessation of refugee status for Ivorians as of 30 June, 2022. UNHCR supported the Ivorian Government in facilitating the return of Ivorian refugees who wished to return from neighbouring countries. UNHCR also supported the local integration of Ivorian refugees who wished to integrate into host countries rather than returning home.
21,300 Ivorian refugees returned during the year, mainly from neighbouring Liberia and Ghana.
UNHCR's role in supporting this historic success was made possible by donors of unearmarked funding, which accounted for 76% of UNHCR's expenditure in the country in 2022: $13.5 million out of a total $17.8 million. With softly earmarked funding included, the figure increases to 93%.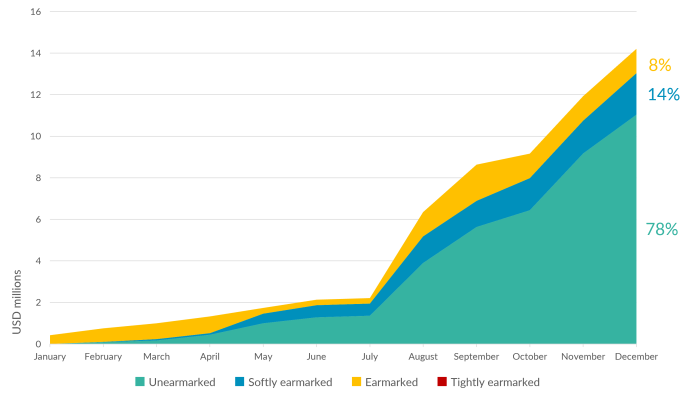 UNHCR supported all returning refugees during 2022, issuing a cash allowance and facilitating their sustainable reintegration in their areas of return. This was challenging as returnees did not have the phones and mobile money accounts needed to receive cash via money transfers, and towns close to the reception sites did not have financial institutions, so UNHCR's partners were obliged to transport large sums of money by road to disburse the cash assistance. Returnees faced many practical challenges too.
A widespread lack of birth certificates and identity documents made it difficult for them to take up schooling, vocational training and employment opportunities, and many returnee farmers were unable to access their land that had been sold or arbitrarily occupied by relatives or third parties. 60% of returnees were young people, and many lacked training and qualifications, making their socioeconomic integration difficult. Many of the women returnees had earned a livelihood while in exile but, being illiterate, could not access microcredit easily on their return.
The vast majority of UNHCR's work in Côte d'Ivoire, and in neighbouring Liberia and Ghana, was funded out of unearmarked contributions. The generosity of these donors made it possible for UNHCR to support the implementation of the roadmap for durable solutions for Ivorian refugees. Without their generosity, the challenges facing returning Ivorians would have been far greater.