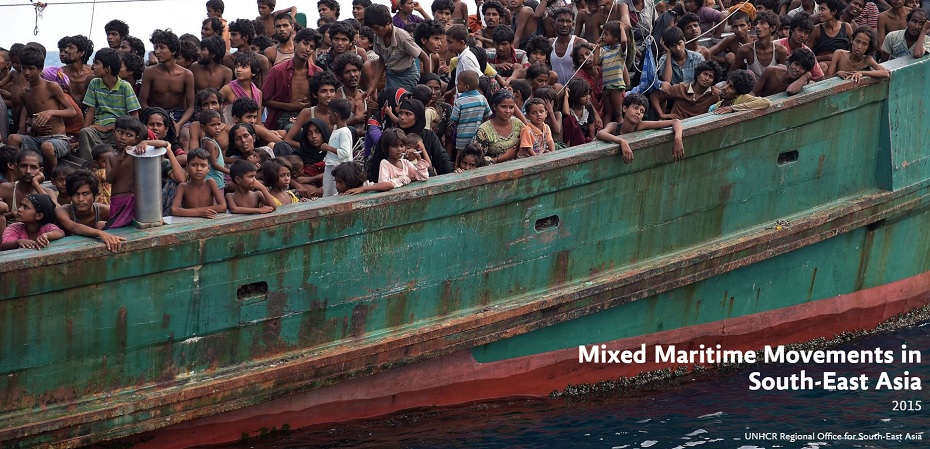 In total, approximately 33,600 refugees and migrants travelled through South-East Asia in mixed maritime movements in 2015, including approximately 1,000 who either crossed the Strait of Malacca or attempted to reach Australia from Indonesia, Sri Lanka, and Viet Nam. Read the annual report here. The report is also available in PDF format.
 

"Saving lives must be the number one priority"
Statement by Volker Türk, UNHCR's Assistant High Commissioner for Protection, at the Special Meeting on Irregular Migration in the Indian Ocean 29 May 2015 Bangkok, Thailand. Read here. 

Joint Statement by UNHCR, OHCHR, IOM and SRSG for Migration and Development
- Press Release, 19 May 2015
Joint Statement by UNHCR, OHCHR, IOM and SRSG for Migration and Development: Search and rescue at sea, disembarkation, and protection of the human rights of refugees and migrants now imperative to save lives in the Bay of Bengal and Andaman Sea. Read the Joint Statement in full and view the Joint Proposals for Action

. 


In May 2015, at least 5,000 refugees and migrants from Myanmar and Bangladesh found themselves stranded at sea when the people smugglers and ship crews who had promised to take them to Malaysia abandoned them en masse in the Bay of Bengal and the Andaman Sea. Survivors spoke to UNHCR about their terrifying ordeal. Read their stories here. 


Approximately 63,000 people undertook irregular maritime journeys that passed through South-East Asia in 2014. The vast majority—an estimated 62,000 people—departed from Bangladesh and Myanmar bound for Thailand and Malaysia. Hundreds of others followed routes through the Indian Ocean from South Asia and Indonesia to Australia, and across the Strait of Malacca from Malaysia to Indonesia. Read the full report here.