Themes
UNHCR's results framework and monitoring system have been designed around rights groups, which provide a framework for the organization to continuously improve the delivery of assistance, with the overall goal of protecting people of concern as efficiently and effectively as possible.
The themes below represent a selection of UNHCR's global objectives, reflecting core protection activities as well as other life-saving objectives to address the most critical needs of displaced populations.
On the world map, selected indicators from UNHCR's results framework are displayed for all operations worldwide. Information is provided by Population Planning Group (PPG) - groups of beneficiaries within an operation who share common needs. Year-end results for 2011 - 2018, as well as baselines and targets for 2019, can be viewed below. For the current year, the baseline and target information is displayed. Targets describe what the operation sets out to achieve during the implementation period. Baselines show the situation for an impact indicator at the beginning of a planning period (e.g. 1 January 2017) and are used to measure progress over time.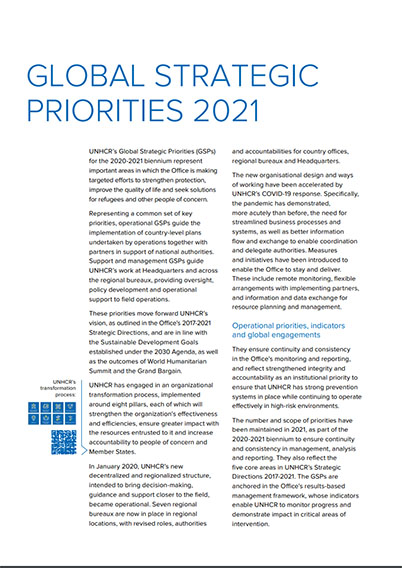 The number and scope of
Global Strategic Priorities in 2021
have been maintained, as part of the 2020-2021 biennium to ensure continuity and consistency in management, analysis and reporting.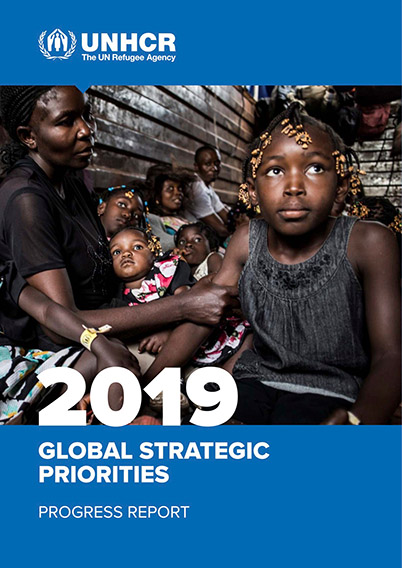 Choose a Theme
Child Protection
Comprehensive Solutions
Education
Public Health
Refugee Status Determination
SGBV Prevention and Response
Settlement and Shelter
Water and Sanitation
Statelessness
Community-based Protection